Dating app Tinder introduced the platform's latest offering in true Hollywood fashion on June 17 with a glitzy launch event featuring performances by Jason Derulo and Zedd at Santa Monica Airport's Hangar 8. Assembling a curated audience of more than 1,000 of Los Angeles' most fashionable influencers, the brand introduced Tinder Plus—a paid subscription-based version of the app with a Passport feature that allows users to digitally select from potential mates all over the world.
The activation was airline-themed across every touchpoint, beginning with "boarding passes" that allowed guests to enter the event, followed by a Tinder-branded TSA checkpoint at which attendees walked through fake metal detectors.
Inside, a Hollywood airplane prop that formerly functioned as a real plane, complete with "Tinder Air" branding, could be found at the center of the space as brand ambassadors floated around the hangar dressed in TSA and flight attendant attire.
Food trucks offering complimentary bites, lounge areas featuring airport-style seating and a baggage claim where attendees could pick up gift bags before leaving kept attendees swiping right throughout the evening. To keep everyone looking stylish, Glamsquad—an on-demand, in-home beauty service—performed makeup touch-ups and styling on-site.
The event offered a number of photo opportunities, including one in which attendees could stand behind iPhone cutouts featuring the Tinder app screen. Participants were then encouraged to share the experience on social media using #swipeanywhere.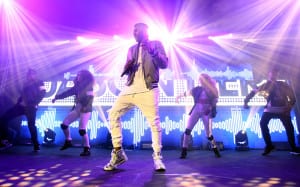 Sponsors provided further engagements. Expedia invited attendees to sit in an airplane seat while using iPads to view some of the brand's destinations, ultimately offering up free trips to 10 participants. In addition, Tesla displayed four vehicles throughout the event, Orbit Gum handed out free samples at the "Welcome Boarding Zone" and Lyft offered a free ride credit to each attendee.
"When Tinder first started, it started in certain circles in Los Angeles," says Josh Metz, director-marketing at Tinder. "People weren't that comfortable with meeting other people online at that stage, so leaking the product through the right channels was always important to us. It's always been part of our strategy to introduce Tinder to influential people first and, just like fashion, have it progress from there." Agency: NVE, Los Angeles.
Related links:
•  Q&A: Inside Bud Light's Partnership with Tinder