Who's got the munchies? To promote the second season of "Bates Motel" at South by Southwest, which premiered during the festival, A&E activated a vending machine that dispensed free brownies. The packaging made it look as though the chocolate treats inside actually had pot in them. They did not. But the stunt paid homage to the series' plotline, in that marijuana is one of White Pine Bay's, the fictional town where the show takes place, biggest exports.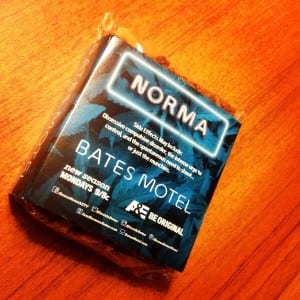 Wrapped in branding with tune-in information and background on the show (described as a contemporary prequel to Alfred Hitchcock's "Psycho"), the custom vending machine debuted at the A&E-sponsored opening night party for the SXSW Film Festival at Buffalo Billiards in Austin on March 7. At the party, items from the set were on display as well as 20 pieces of taxidermy (a profession Norman Bates becomes fascinated with in the series). The machine then moved near the Austin Convention Center on East 2nd Street in front of a "Bates Motel" pop-up replica façade complete with the iconic neon sign, where it stayed through March 11.
Consumers could choose between two brownies—the Norma or Norman, each of which had its own unique flavor profile inspired by the character—for example, Norma's brownie included messaging about "side effects" like "the intense urge to control, and the spontaneous need to shout… or just the munchies," while Norman's warned of things like "unexpected blackouts." A total of 5,000 brownies baked by Austin's Sugar Mama's Bakeshop were distributed over the course of the four days.
"We've made a conscious effort to have a presence at SXSW because we find that the people that attend the interactive festival are really great people to talk to about our shows," says Elizabeth Luciano, vp-marketing and brand strategy at A&E. "[Our presence] did exactly what we wanted it to do, which was to increase social chatter about the series." Agencies: Motive, Denver, CO (vending machine activation); Civic Entertainment Group, New York City (party).