State Farm Delivers a 50 Million Pound Challenge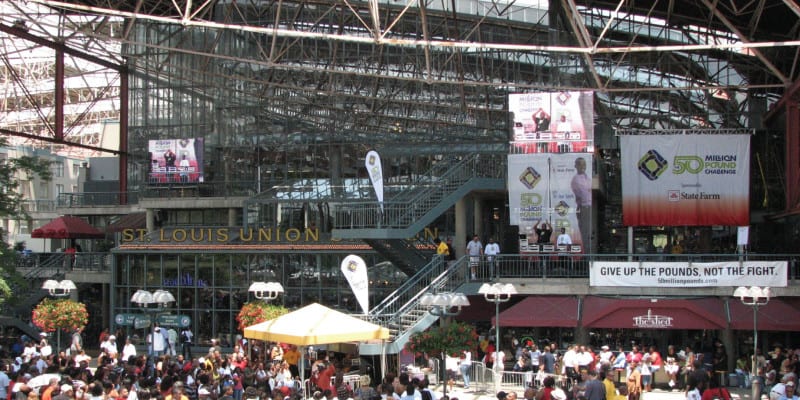 Agency:
THE MARKETING ARM
Awards:
EX AWARDS — BEST MULTICULTURAL EVENT CAMPAIGN
Smart marketers know that effective market outreach is about much more than just picking from a few broad demographic categories. State Farm's 50 Million Pound Challenge program focused on one key community—African-Americans—but then layered in activation strategies designed to appeal to the community's diverse passions and unique health concerns. The resulting campaign turned a macro target into 81,000 meaningful, one-on-one branded experiences.
Author and health expert Dr. Ian Smith served as spokesman and program strategist, helping to deliver the program's serious message about the dangers of obesity in the black community. State Farm supported his efforts by creating weight-loss-themed events that were entertaining, educational and uplifting. The campaign kicked off in Washington D.C. last April and then popped up at gospel festivals, fairs and local events in 14 of the most heavily populated African-American markets.
At the events, attendees could weigh in at one of two dozen private scales, or visit stations staffed by local nurses to get blood pressure, body mass index, body fat and pulse rate readings. Consumers received individualized print outs that explained their results and provided tips on how they could improve their stats. In the gaming area, participants were rewarded for making healthy food choices at a contest wheel and for exhibiting physical fitness at the Fat Smash challenge. Attendees could register on the Challenge website at computer kiosks. Sign-up incentives included t-shirts and challenge starter kits, which included a pedometer, a booklet filled with fitness and nutrition tips and a CD-ROM showing users how to get started. State Farm lived the Good Neighbor creed by passing out free bottled water, hand fans, rain ponchos and raffle prizes for consumers who filled out lead gen cards.
For those that needed a little extra inspiration, the Farm brought in the big guns. Celebrity icons including soul singer Patti LaBelle and NFL star Michael Strahan spoke candidly about their own personal struggles with diabetes and obesity during autograph sessions and before performances. Comedian and actor Steve Harvey hosted the star-studded performances and kept the serious stuff from getting too heavy.
Of the 81,000 consumers the events engaged, an impressive 20 percent opted in for more information. Positive press, another top priority, also delivered on objectives. Top media outlets like People magazine, Black Enterprise magazine, ABC's "The View" and NBC's "Today" show covered the events. To date, more than 470,000 consumers have signed up for the Challenge and over two million pounds have been lost.
"One of the things we do every day is help people in communities, so it was a natural platform for State Farm," says Pam El, marketing vp at State Farm. "The greater, larger metric… is that at the end of the day I want people to look at Dr. Ian and say, 'Thank you for helping save my life.' And I want them to say thank you to State Farm for making it possible. Those are the two things I would ultimately like to see come out of this campaign."