Spray-Painted M&M's People Invade Times Square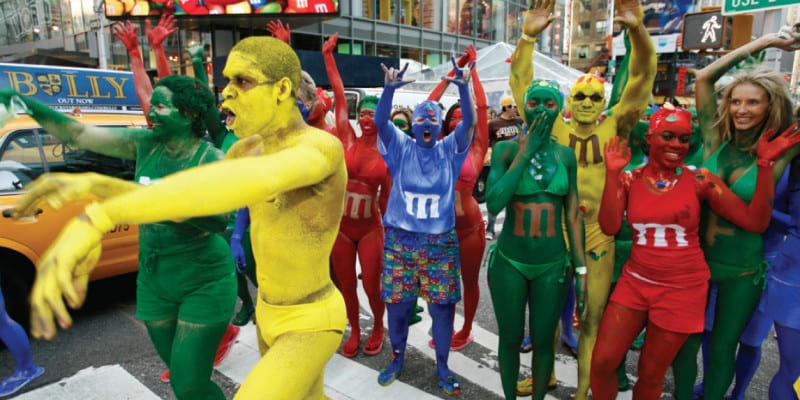 Agency:
BREAKWHITE LIGHT
THINKWELL DESIGN & PRODUCTION
Awards:
EX AWARDS — BEST PRESS/MEDIA EVENT
Time was, the sight of scantily clad people hanging out in Times Square wasn't that big a deal. But with the district's family-friendly cred firmly in place, and mid-December temperatures being what they are in the Big Apple, Mars knew it could turn up the hype for the opening of its M&M's World New York retail store by sending out a small army of half-naked men and women, each spray-painted the color of their favorite M&M candy.
In an open-air salon near the new store, New Yorkers and members of the media gathered to watch people dressed in bathing suits get "candy-coated" by high-volume, low-pressure spray guns. Needless to say, the painters completed the look by adding the world-famous "M" to each participant's chest. The freshly coated human M&Ms then flooded Times Square, showing off their true colors for press and passersby to enjoy.
So many things could have gone wrong, starting with the paint, but the event team used a water bath with immersion heaters and insulation tanks to keep the paint from freezing in the chilly New York winter air.
The excitement generated plenty of store traffic and lots of curiosity; even NYC policemen stopped what they were doing to snap cell phone photos. Even more remarkable, none of the human M&Ms were paid for freezing their chocolate shells off—all were volunteers.
The resulting coverage? Well, you might say that M&M stood for "more" and "media." The brand estimated that the event generated more than 70 million impressions. Tasty.