Qualcomm Activates a 360-degree Projection Event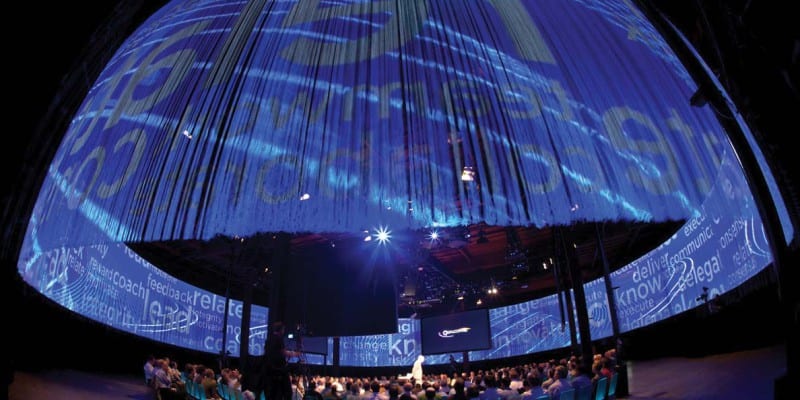 Awards:
EVENT TECHNOLOGY AWARDS — BEST USE OF A/V
Qualcomm's VP and Above Meeting doesn't have the catchiest working title, but thanks to a clever theme this year—"Cause An Effect"—and a killer 360-degree projection strategy, the meeting made the necessary impact. The goal for the event was to increase communication and collaboration among Qualcomm's upper management.
To facilitate that objective, the company ditched the classroom-style floor plan and put attendees in the round where they could get up close and personal with the company's top speakers and luminaries. Presenters spoke from a circular platform and moved freely around the podium to address attendees on all sides, creating a more dynamic and lively experience and offering attendees more opportunities to engage with questions and comments throughout the event.
But what transformed a simple in-the-round town hall meeting into an event worth remembering were the vivid graphics and videos that were projected throughout each presentation. Sixteen Christie Digital M-Series S+10K projectors with Twist technology were used to project media onto a fringe curtain that surrounded the event space. For the audience this meant no visible image seams, seamless full motion video and perfect synchronization with the presentations.
The 285-foot by 15-foot white fringe curtain projection surface was suspended eight feet above attendees via a ground-srupported truss and acted as a dual projection surface, offering clear visibility from every viewpoint and a sense of enclosure and movement. The end result was an employee event that managed to be both bold and intimate at the same time.