Medco Zeroes in on Target Attendees and Tracking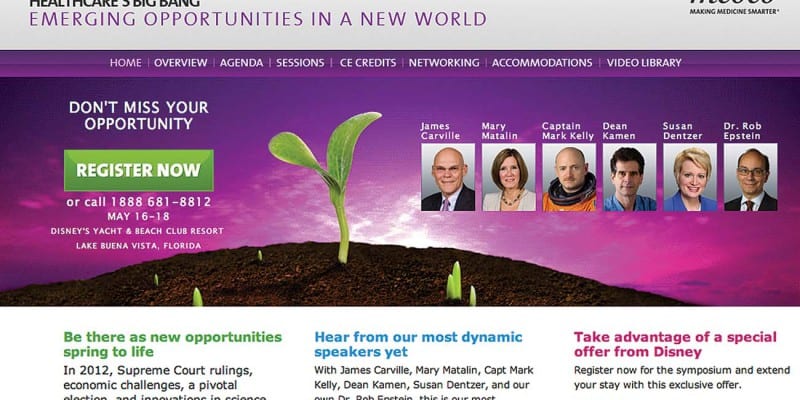 Brand:
MEDCO/EXPRESS SCRIPTS
MES
Agency:
BARKLEY KALPAK AGENCY
Awards:
EVENT TECHNOLOGY AWARDS — BEST USE OF TECHNOLOGY FOR REGISTRATION/COMMUNICATIONS
Medco/Express Scripts (MES) has hosted The Drug Trend Symposium, a three-day healthcare thought leadership event, for the last nine years, and in May 2012 at Disney's Yacht & Beach Club Resort in Orlando, FL, the brand hosted more than 800 benefit and compensation managers, corporate medical directors and corporate pharmacy directors in order to demonstrate its value as a partner to these clients.
This was a crucial year for MES, because it had undergone a large merger after the event planning had begun, and so the brand faced the additional goal of heralding the new beginning for the combined organization. A key element to achieve success was a successful registration drive to make sure the most appropriate targets were reached and signed up. To get it just right, MES combined pre-event and onsite registration technology to create persuasive communications for the targets, deliver clear experience details for each guest and allow for faster, more accurate tracking to better plan the on-site portion of the experience. To drive the registration campaign, the brand leveraged a whole compendium of technology solutions. For acquisition, the brand delivered communications through an HTML5 and mobile-enabled website with dynamic splash animation. Five separate emails promoted speakers, registration and an array of on-site activities, and these tactics led to the highest open and click-through rate in the nine-year history of the event and to meeting of the registration goals quicker than ever before.
To help attendees craft an experience unique to their needs, a custom registration website featured 46 different registration pathways that could accommodate pre-meetings, dozens of client categories, custom variations in offerings and breakouts and activities, while providing real-time click-through statistics and registration data. For check-in, MES deployed barcoded name badges for quick check-in via scanners. This technique allowed for real-time information sharing with sales to follow up on in support of acquisition and retention goals.
The brand had to create an entirely new strategy to accomplish all of its goals. The solution incorporated all of the data segmentations and reporting that was needed, including internal pre-conference meetings, segmented invitations for different types of attendees, travel and content variables for hotel dates and extra-curricular activity options, custom confirmation emails and automatic reporting. In the end, the cohesive registration initiatives allowed the brand's event planning team to stay ahead of the game in the logistics process for the on-site experience and the comprehensive data collection at every step helped sales reps to manage the business relationships. The event netted the highest attendance numbers in its history and post-event surveys indicated significant positive impressions of the registration process. No Prozac needed, 'cause everyone was already feeling good.