Lowe's Promotes Home Safety with Educational Tour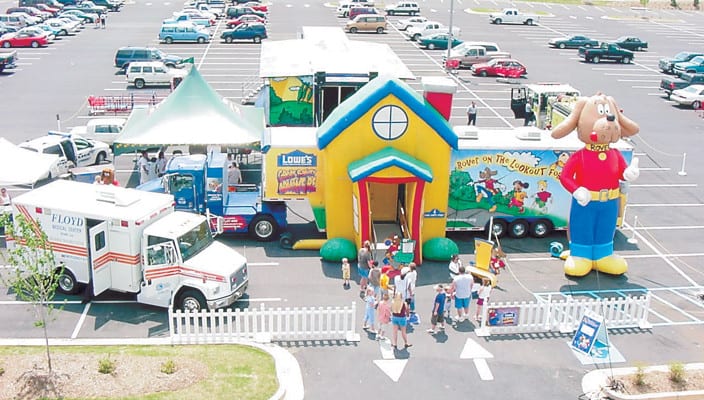 Awards:
EX AWARDS — BEST ACTIVATION OF A CAUSE SPONSORSHIP/COMMUNITY TIE-IN
Lowe's largest corporate marketing initiative, its home-grown Home Safety Council charity, has been mobile for five years now, growing bigger and better annually with a super-relevant tour focused on teaching kids how to help parents make homes safe.
Two sets of trucks staffed by four safety experts unfold into 1,200-sq.-ft. "houses" featuring true-to-life living spaces children explore for hands-on safety tips. The effort targets kindergarten through fifth grade students.
At each event, mascot Rover the Safety Hound greets kids, then gets them ready for a 40-minute adventure with an orientation video. Each child is then armed with a flashlight and taken through the house with one of four trained Safety Rangers leading them in pointing out danger zones in the home. Each room has a lesson. In the kitchen, for example, kids go through a "what's wrong with this picture?" exercise in which they are asked to point out hazards such as poisons under the sink and hot stoves. Other stops include Rover's bathroom, backyard and bedroom.
As the youngsters learn how to identify the hazards (trips and falls, fire, strangulation and suffocation), the dangers are corrected. The finale is a fire drill with simulated smoke the kids crawl through. "Cause marketing tours typically don't last," says Sarah Miles, program manager with the Home Safety Council. "But we're still going strong."
The "field trip on wheels" makes stops at four schools (maximum throughput is 600 kids per day) during the week before setting up at Lowe's stores on the weekend, prompting kids to bring Mom and Dad to the store to show off what they've learned. The parents can then go into the store and buy the necessary safety improvement items. "The client makes sure this isn't overly commercial," says Liz Petschauer, US Concepts' account supervisor. "This is educational, but entertaining."
In 2002, the two trucks visited 31 markets and touched 130,000 children. Overall awareness and popularity of the program has increased substantially, with unsolicited requests from schools at an all-time high (as many as five per week). Sales have also been impacted, with 32 percent of parents admitting to making at least one major change in their home as a result of the Great Safety Adventure and 11 percent making "significant changes." Thirty percent of kids that go through the experience end up teaching parents or siblings how to reduce hazards. "There's no down side to this program," says Miles. "We can't meet the demand from the schools. It's really nice to be wanted."