Cotton Activates its First Live 24-Hour Runway Show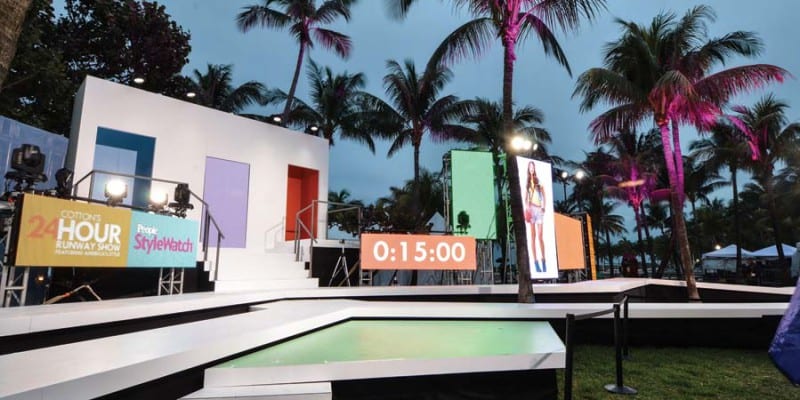 Brand:
COTTON INCORPORATED
Agency:
JACK MORTON WORLDWIDE
Awards:
EVENT TECHNOLOGY AWARDS — BEST DIGITAL+LIVE CAMPAIGN (B-TO-C)
Think cotton is just about comfy t-shirts and sexy jeans? That's just the notion Cotton Incorporated wanted to dispel. And where better to do that than in Miami's South Beach, where the brand activated the world's first, and only, 24-hour fashion show. The show provided a unique platform for Cotton Incorporated, which represents American's cotton producers and importers, to acquaint style enthusiasts around the country with the fabric's versatility and trendy style options.
To expand its perception, it featured cotton apparel from contemporary apparel partners and designers on the runway. But to be truly perceived as a fashion staple, Cotton Incorporated needed to branch out of its limited social network and gain the attention of a nationwide audience. So, beyond the live event, the campaign this year was rooted in an integrated digital strategy that amplified the brand experience before, during and after the show. The result created as much "wow" as the leggy models on the runway.
The campaign turned one of Cotton Incorporated's key attributes, its versatility, into an experiential innovation: a 24-hour fashion show that showcased fashion looks created out of cotton around the clock, with a different outfit featured every minute from 8 p.m. March 1 to 8 p.m. March 2. But the fun began long before that with an eight-week pre-promotion called "Road to the Runway," a nationwide search that encouraged regional consumers to upload photos of their coolest cotton clothing onto a style map.
Teams of street-style photographers around the country drove consumers' attention to the online competition. The winners inspired some of the fashions that were shown on the runway and were flown to the live event for a VIP experience. The live show drew 678,562 online viewers who watched the live stream on People.com and made #cotton24hours trend on Twitter. During and after the show consumers could purchase most of the apparel through an online "Shop the Runway" feature. But to truly connect the online campaign with the live experience, Cotton Incorporated enlisted fashion bloggers with strong regional voices to engage their audiences. The brand also partnered with People magazine to promote the campaign.
The digital integration of the campaign with the Cotton24Hour website and its social media footprint enabled the brand to truly build a network and generate broad engagement across the country. The online components transformed the campaign from an event witnessed by a few to an experience for the many. Cotton Incorporated experienced a 153 percent increase in Pinterest followers, and a 121 percent increase in Instagram followers. In a survey, 77 percent of respondents said they were more likely to consider cotton products to be high quality, and 75 percent were more likely to consider cotton products stylish.