Arby's Goes Viral with a Social #MeatSweats Campaign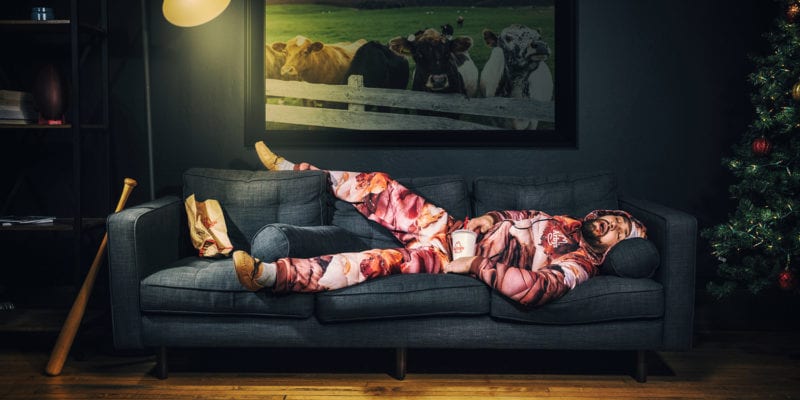 Awards:
EX AWARDS — BEST BUZZ MARKETING/INFLUENCER PROGRAM
The best viral campaigns don't shy away from a little feather ruffling, so when Arby's set out to inform carnivores across the country that it serves up more mouthwatering meats than just its signature roast beef, it turned to a "Oh no, they didn't" moment with the #MeatSweats campaign. The year-end earned media stunt involved custom apparel featuring Arby's signature meats in a photorealistic sweatshirt and sweatpant ensemble.
But these snazzy ensembles could not be bought. They had to be earned. Arby's asked carnivores everywhere to post on social media their most meat-worthy accomplishments, like consuming an impossibly large sandwich featuring all of Arby's signature meats.
Select champions, the nation's most publicly passionate carnivores, were rewarded with a packaged pair of their own meat sweats, each wrapped in bacon-patterned tissue paper, sealed with a "100% Meat Sweat Certification" sticker and wrapped in a bright red poly bag—and delivered just in time for Christmas.
A media kit and influencers helped send the campaign viral, like ESPN commentator and former NFL player Mike Golic, Jr., who launched a tweet that got the ball rolling. Then came an on-air appearance on "Fox & Friends," articles in Food & Wine and Golf Digest, a shout-out by Seth Meyers on "Late Night" and scores of posts by recipients who donned their sweats on social holding up a card that read #MeatSweats.
Over the course of six weeks and with a budget of less than $100,000, Arby's earned 92 million media impressions, another 29.5 million social media impressions and countless new customers. And zero love from vegetarians.