VIRTUAL PLATFORMS INDEX 2023
CAMPAIGN: 2022 AutoZone National Sales Meeting
CLIENT: AutoZone
AGENCY: LEO Events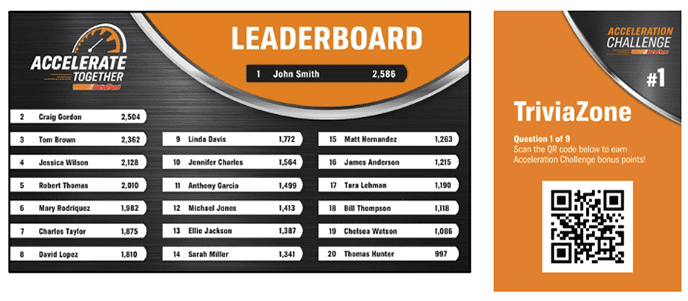 AutoZone's National Sales Meeting (NSM) is an annual event that brings together thousands of employees and store managers from around the world. In 2022, AutoZone aimed to create a meaningful Vendor Experience that showcased innovative automotive products, fostered connections between vendors and attendees, and increased lead retrieval. AutoZone partnered with LEO Events to develop a game within the Eventfinity mobile app dubbed Passport to achieve these objectives.
AutoZone sought to captivate and energize the 3,000 store managers and employees at the NSM with an immersive experience. Passport was designed to increase engagement, encourage networking, and streamline vendor lead generation. It targeted both attendees and vendors at the event.
LEO Events developed the Passport app as a proprietary in-app game that transformed the Vendor Experience into an exciting and competitive activity, further bolstering the power of Eventfinity. The app challenged attendees to scan unique QR codes placed by vendors throughout the event. Each scan awarded points and prompted trivia questions, fostering friendly competition and knowledge-building. By hiding QR codes in creative places, vendors encouraged attendees to explore their booths and interact with their products thoroughly. The event app talked directly to the game and featured a Leaderboard that displayed real-time rankings, motivating attendees to visit more booths and engage deeply with the event.
Passport engaged not only attendees but also streamlined lead generation for vendors. When attendees scanned a QR code, the app recorded their information and generated a list of all the people who interacted with a specific booth. This approach empowered vendors to promote their products to targeted AutoZone stores, simplifying the lead generation process, all within Eventfinity. The success of Passport was evident as all floors of the expo remained active and lively throughout the event, with over 100 attendees maxing out their scores by visiting every booth and answering trivia questions correctly. This integration ensured attendees a smooth and sustainable experience, eliminating the need to download a separate app or handle paper-based activities.
AutoZone's Vendor Experience at the 2022 National Sales Meeting was a resounding success, with increased engagement, networking, and lead retrieval. The Passport app, developed by LEO Events and powered by Eventfinity, transformed the event into an exciting and memorable experience for attendees. By seamlessly integrating gamification into the existing infrastructure, AutoZone demonstrated the effectiveness of combining form, function, and fun.
---
CONTACT INFORMATION: