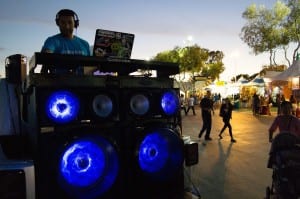 To promote the GIGA Bluetooth-enabled—and crazy loud—speaker sound system, Samsung in July bumped music from a tricked-out truck at the summer's hottest outdoor events in Southern California. The GIGA Sound Summer Tour kicked off July 11 at the Orange County Fair in Costa Mesa and wrapped July 27 at the World Series of Beach Volleyball in Long Beach.
The custom Jeep vehicle, built in partnership with West Coast Customs, featured a giant built-in Samsung GIGA MX-FS9000 speaker that folds up and down (for travel), synchronized LED lighting and a drop down branded awning that covers a dance floor as part of the footprint. Brand ambassadors initiated dance sessions, karaoke and dj demonstrations using the GIGA system. In addition, consumers explored products and tested the Bluetooth features from their own devices. Flyers were distributed with product information as well as USB sticks to demonstrate the record-to-USB functionality of the systems. Other giveaways included branded balls, backpacks and sunscreen.
"Our research shows that consumers are using the GIGA sound system to host and be the dj at their own parties and events, including tailgates," says Peggy Ang, vp-marketing and communications at Samsung. "We wanted to focus on key summer outdoor events and collaborated with West Coast Customs to place the GIGA sound system in an exciting and extreme context." Agency: Culture Shop, New York City.