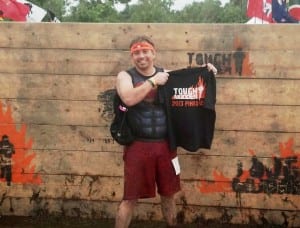 I want to begin with a disclaimer. I am not in shape. At all. I don't go to the gym, or run or work out. I also did not train for the event, despite knowing weeks ahead of time that I'd be doing it. So, I'm a moron. Because the event at hand was Tough Mudder. And a Mudder by any other name is not nearly as tough, folks.
Tough Mudder is quickly becoming famous for its grueling courses and seemingly endless tests of physical, mental and emotional toughness. Not everyone makes it to the end (the best odds I could get out of anyone was about 70 percent chance of success), but the difficulty wasn't the most surprising thing about the Mudder. It was the other folks out on the course. Get stuck? Find a dozen helping hands. Can't get over a bulwark? Feel a push on your tush that throws you over the top. Hurt yourself? Everyone stops to make sure you get medical attention, with no concern for their finishing times.
So on an overcast but warm day in early June, two hours outside of Detroit, I pulled my Superman shield onto my chest, strapped my red boots on my feet and toed the line for the longest run I'd attempted since high school. My motto? "Failure. It's an option."
I was packed into a group of about 100 other people of all ages, sizes, shapes and fitness levels as we took the Mudder's oath to understand that the event is not a race but a challenge, to put team work and camaraderie before our course times, to help our fellow Mudders complete the course, to not whine (because kids whine, not adults), and over all, to overcome all fears.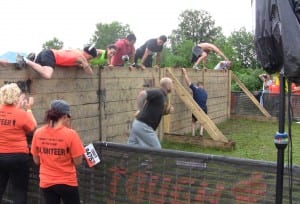 Suddenly, before I was ready, the orange smoke billowed across the path, the energy ratcheted up to 11 and the group of us burst across the line like eager kindergarteners off to recess. Now, I might be a moron, but I'm no fool, and I knew I had miles to go before I reached the finish (if at all), so I was planning to go easy and run in intervals, 400 yards at a time. I was feeling good, until I got to the first obstacle, about two miles in. It was a wall, angled toward me, and the lead edge was about eight feet off the ground. I ran up, leapt for the top and got my head over the edge. I gripped the rough wood hard, digging my fingers in so I wouldn't slip, and tried to swing my legs over. I didn't. I couldn't believe it. On the first wall, I was stuck. The first bloody obstacle. Just as I was about to drop down and try again, I felt no fewer than five hands grab my legs and butt and, thanks to their help, I flew over the top and landed on my face in the mud on the other side.
Without that help, I likely would have struggled there for quite some time. I ran on, crawled through rocky mud under barbed wire, over logs and walls, leapt though fire and into muddy pools and ran and ran and ran. And then I came to the Arctic Enema. For the record, I did NOT want to do this. The Enema is a dumpster with no top and a wooden barrier halfway across and is filled with freezing ice water. While I waited to climb up to the edge, I watched the lifeguard rescue a woman who hit the water and couldn't  move, so she sank. And then it was my turn at the edge. I held my breath and dove in. And died.
Ok, I didn't die. But I wanted to. By the time I climbed out the other side, I was ready to quit. And I wasn't alone. There were about six of us breathing hard and shuddering and trying not to pass out. We joked about it together, once we could talk again. We swore a lot. I invented a few new curses, I think. And then we kept going. In fact, I ran with two of my frozen friends for quite a while. And we ran some more.
I dove off of a 15-foot platform into a 15-foot-deep mud pool, got electro-shocked, I swam under barbed wire, fell down a hill, climbed through a pitch-black tunnel and carried a log for what felt like 20 miles. I got cramps, blisters, a twisted ankle and a few cuts. I ran about half of the course and walked the rest. I had a ton of help, and I helped a few other folks. And I made it to the end. And drank a ton of Dos Equis with my fellow finishers. We felt like the elite. We needed the Advil (did you read our full Tough Mudder sponsorship story last month?
Check it out here: eventmarketer.com/article/goingrogue).
We were crippled (almost no one as much as me), but we were proud. And we walked with arms around each other back to the parking lot and knew we'd remember this forever.