Recognizing the Best Experiential Marketing Campaigns of the Year
If James Corden were to do an opening montage for this year's Ex Awards, he'd have no shortage of killer material to work with.
From Target's Imagine Dragons concert for a few hundred fans that ran live as a four-minute TV spot during the Grammys, to the world's first hydro-interactive tennis experience set against a 60-foot wall of water for American Express, to the otherworldly "glamping" experience for Opel dealers erected on an arid desert landscape in Spain, the content-rich and visually stunning "wow" moments were plentiful in this, Event Marketer's 14th annual Ex Awards competition.
The Ex Awards are the world's only recognition program for the experiential marketing industry. This year's winners and finalists submitted their work across 23 categories for review by a panel of 26 brand-side judges, and winning campaigns were selected based on their originality and measureable impact on the objectives set out for their respective brands. The programs you're about to see were chosen from among more than 1,000 entries and represent the most innovative and strategically sound brand experiences in the world.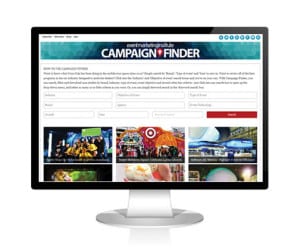 Subscribe to Campaign Finder, the world's first experiential marketing case study search engine, and get access to the world's first experiential marketing case study search engine. Campaign Finder gives you unlimited access to a growing database of more than 1,000 award winners and best-in-class case studies for your brainstorming session, CMO pitch, team meeting and more. Search, filter and download case studies by brand, category of business, type of event, event objective and other key criteria.
LEARN MORE
This story appeared in the June/July 2016 issue