Most consumers think of Skinnygirl strictly as a cocktail brand that produces low-calorie alcoholic beverages. But with a new line of protein bars and shakes set to hit Walmart shelves on Nov. 20, the brand needed to showcase its healthier side, prompting a food truck experience that took its protein-filled treats to the streets.
On Nov. 10, Skinnygirl founder and ceo Bethenny Frankel brought the brand's "Snack Mobile" and a double decker bus to New York City for a day of sampling, education and interviews. Frankel began the morning with several interviews for local media held inside a branded bus that used digital signage on its exterior to draw attention to the activation and the brand. (The interviews were meant to be held on top of the vehicle to give the experience a Big Apple vibe, but steady rain dashed those plans.)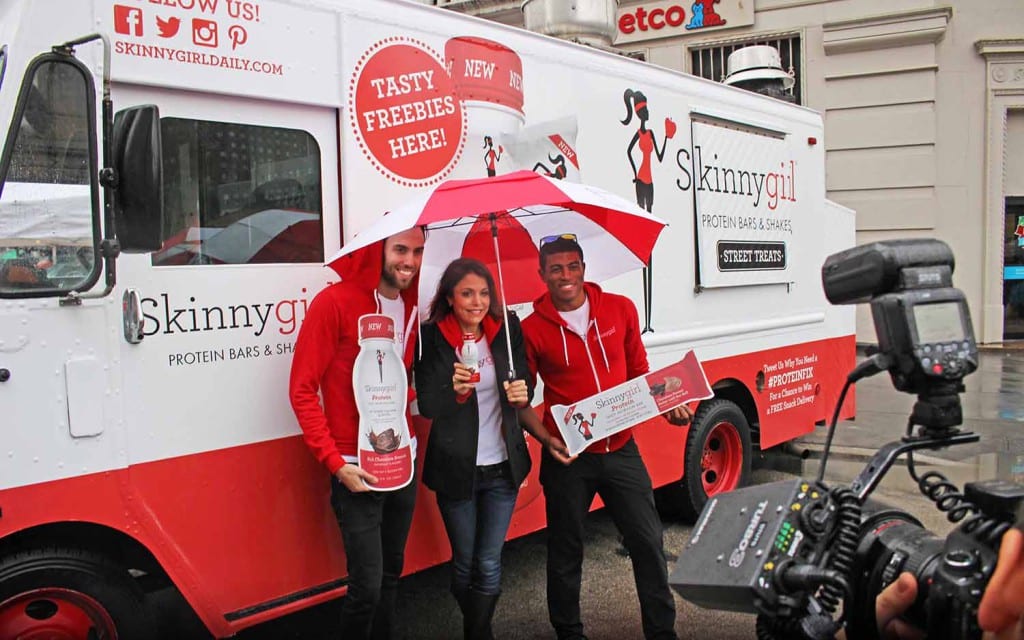 Following interviews, Frankel and a team of brand ambassadors brought the Snack Mobile to Union Square where they handed out full-sized samples of Skinnygirl's new line of shakes and bars, and answered questions regarding the products and general nutrition, with an emphasis on helping women reach their daily protein requirement. The brand encouraged people in nearby fitness studios and office buildings to check out the new products and to continue the conversation by tagging the brand on Twitter for a chance to receive an office delivery of the snacks in the weeks following the event.
Long lines formed throughout most of the event with consumers coming from near and far to meet Frankel. Meanwhile, tents set up around the food truck offered consumers a refuge from the rain and a place to enjoy their snacks. The brand then made its way to a handful of other high-traffic locations in Manhattan, engaging with men and women alike.
"We found it really helpful to get direct feedback and insights from passersby and some dedicated fans that came out to support us," says Jessica Lau, brand manager at Skinnygirl. "With these events, we have a great time because it allows Bethenny to come and connect with our fans, and any opportunity we get where Bethenny can talk directly to our customers about the product that we're launching is an amazing way for us to get everything across." Agency: Demonstrate PR, San Francisco.