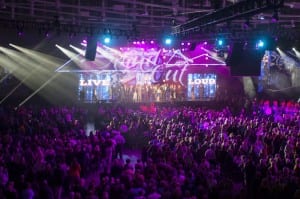 The 2014 National Sales Convention for Prudential Real Estate and Berkshire Hathaway HomeServices, which took place March 17 to 18 at the Music City Center in Nashville, achieved its highest satisfaction rating since 2007. A seamless main stage production, along with a consistent message for the 3,400 independent brokers and sales agents who attended, accounts in large part for that success (Corporate Magic, Dallas, handles).
The convention came as Prudential is transitioning under the ownership of Warren Buffet's Berkshire Hathaway, which acquired Prudential in 2012, to become Berkshire Hathaway HomeServices. Its goal was to motivate and educate attendees, and provide networking opportunities, but it is primarily a recognition event. "We try to cover all aspects of their needs, but the No. 1 reason we have the event is to recognize them," says Denise Doyle, director of conference and meeting services at HSF Affiliates, which operates Berkshire Hathaway HomeServices, Prudential Real Estate and Real Living Real Estate.
Doyle takes us through the two-day affair and discusses six elements of a successful recognition event.
1. Choose a cool venue. The Nashville City Center is new, and the organizers considered the area before the convention center or the hotel was built. "We really did take a chance," Doyle admits, but it turns out the attendees loved Nashville, and the small business owners in town were grateful for the business.
2. Deliver a strong message. Taking a cue from The Beatles, who constantly reinvented themselves in their quest to stand out as musicians, the theme of the meeting was "Stand Out." Monday's general session centered on the many ways the company is standing out in the hyper-competitive real estate market, and speakers such as author Marcus Buckingham, who wrote a book entitled "Stand Out," and Kathrine Switzer, the first woman to enter the all-male Boston Marathon, also drove home that theme. "The message rang clear that it is a new day and exciting time with Berkshire Hathaway," says Meg Lohr, senior international account manager at Corporate Magic.
3. Create dynamic staging. Five moveable LED screens integrated into the staging added a compelling visual element to the production. The screens, measuring nearly seven- by 10-feet and constructed from 60 ultra-lightweight carbon fiber LED panels, provided by GoVision, were mounted on rollers and set in motion at various intervals. Stationary screens measuring six- by nine-feet flanked each side of the stage. The dynamic staging allowed for a constantly changing look, so the audience didn't know what was next. In addition, LED triangles magically transformed the screen panels into the shape of a house, a fitting visual for the brand.
4. Incorporate storytelling. HSF Affiliates sought out success stories within its network of agents and brought those "stand outs" onto the main stage via video. It appeared as if one of the agents was actually standing onstage in the door of the house and another was in the window, and they were having a conversation.
5. Make it entertaining. Besides wowing attendees with a performance by Reba McIntyre, HSF created a custom song specific to realtors that struck a chord with the agents and brokers. "Meetings must have an ebb and flow; it can't all be about the talking heads," Lohr says. "We had serious, impactful executive moments followed by humorous skits that hit home and were specific to the industry."
6. Make it rewarding. HSF recognizes thousands of people at its annual convention and rather than walking across the stage as they typically do at graduation ceremonies, the honorees, which are recognized in large groups and as individuals, are queued up off the stage in various directions. Everyone holds a card with a barcode that is scanned and fed into all the systems including the graphics, prompter and tech desk, ensuring that the right person or group appears on stage at the right moment. "That was absolutely timesaving and efficient for us," Doyle says.