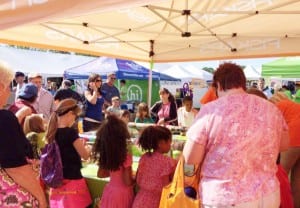 Fiskars, which produces high-end home, garden and office tools, wrapped its Discover the Difference tour in Avon, Ohio on June 15. The tour began in March in Texas and made more than 50 stops at retailers and garden events in 19 cities, putting the brand's trademarked orange-handled scissors and garden tools into the hands of 50,000 consumers.
The activations centered on hands-on demonstration stations designed to showcase the mechanical advantages of the brand's PowerGear pruners, loppers and hedge shears. For fun, consumers also competed against one another in garden tool challenges and used the tools to craft small projects to take home. The experience traveled in a customized Fiskars orange 2012 Airstream travel trailer. The faces of the brand were tour managers Kelly and Jason Law, new homeowners who kept the tour and the brand active on social media and on Fiskars.com, and showed off the excitement that the brand wanted the tour to generate.
Social and digital extensions were a major part of the tour strategy. During the journey, the brand planted photo clues on social media, giving Fiskars fans a chance to win a prize for guessing where the tour was headed next. At each stop, Fiskars shared exclusive photos and videos on Instagram and tracked stops with a Pinterest map board. Throughout April, the brand hosted the PowerGear Challenge on Facebook, which pitted two fans that visited the tour against each other in a pruning competition. Facebook fans voted on who they thought would win for a chance to win PowerGear tools. After one week of voting, Fiskars released the video footage of the rivalry results.
"Our primary goal is to strengthen brand awareness by enabling first-person experiences with our products. The Discover the Difference tour is an exciting way to engage with consumers face-to-face across the U.S., giving attendees a chance to try out a variety of Fiskars tools," said Maggie Younggren, director-marketing communications at Fiskars. "We targeted gardeners and DIYers with an appreciation for tools that make their projects easier. We know that there's an immense sense of pride and accomplishment in doing it oneself." Agency: ProMotion, Chesterfield, MO.