Digital comic platform LINE Webtoon made a splash at San Diego's Comic-Con International (July 9-12), with an array of engagements that encouraged attendees to create shareable content at every turn.
The brand overtook Lou & Mickey's, a restaurant located directly across from the convention center, where robust branding and photo opportunities could be found in each room of the converted event space. Upon entering the restaurant, attendees were met with a large mouth graphic from LINE Webtoon's popular comic, "Lars the Awkward Yeti." The structure served as the brand's preliminary photo engagement, complete with the activation's tagline, #LongLiveComics, and speech balloon signs that read "Burrrrrp!" and "Get the app! Get a drink!!"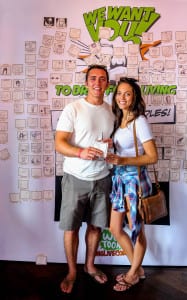 Inside the LINE Webtoon footprint, fans could have their photo taken with cosplayers who were designed to look like popular characters, create custom bar coasters at a doodle station and strike a pose at a branded GIF booth. Attendees were also invited to take part in the Go Comic Yourself makeup booth where professional makeup artists turned them into live comic characters. Fans were encouraged to socially share each experience using #LongLiveComics via Facebook, Twitter and Instagram.
The brand also held an exclusive media event featuring a panel on the future of digital comics. The panel was comprised of industry icons including Marc Silvestri, Michelle Phan and C.B. Cebulski, along with a surprise appearance from Stan Lee, former president and chairman of Marvel Comics.
"Our company is inherently digital and we knew that this campaign had to have a similar focus," says Minjung Seo, head of marketing at LINE Webtoon. "Basically, we tried to make everything about the event shareable because we wanted fans to get so excited that they felt compelled to share each part with their friends… We wanted to show them that Webtoon has something for everyone."
The activation was met with a happy ending, earning a combined total of 130 million p.r. and social media impressions and nearly doubling downloads of the LINE Webtoon app. Agency: Omelet, Los Angeles.