To raise awareness of its zero waste objectives and connect one-on-one with the city's residents and visitors, the San Francisco Department of the Environment from July 20 to 22 activated a temporary street-side coffee stand that distributed free coffee to commuters who brought their own cup. The earth-friendly activation effort, dubbed SF Thing To Do, is part of the agency's long-term goal to reduce waste by encouraging commuters not to import garbage, including coffee cups, into the city and also to get residents to create less waste. The campaign achieved hundreds of mentions on Facebook, Instagram and Twitter and by summer's end will take place in two additional locations.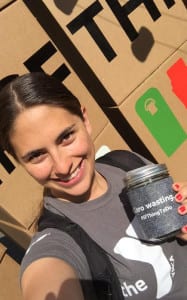 The 16-foot by 20-foot by 8-foot stand, made entirely of repurposed cardboard boxes, tubing and packing straps, and covered with anti-waste messaging, stood across the street from the ferry terminal at One Market Street. Commuters with reusable cups in hand received free coffee from 7:30 a.m. to 1:30 p.m. The first 200 passersby who posted an event photo or message to #SFThingToDo received a free reusable travel mug, created by Cuppow, a Somerville, MA-based recycled and recyclable manufacturer that partnered in the effort. The lidded, glass mug came with a "SF Thing To Do"-branded coozie. Roving, uniformed street teams chatted up pedestrians as they passed by.
"We wanted to remind folks that recycling and composting is part of the DNA of this city," says Friday Apaliski, senior marketing specialist at the San Francisco Department of the Environment. "Coffee cups are a great way to start. We hoped it would be a light bulb moment and it was." Agency: School of Thought, San Francisco.
Related links:
•  How to Stop Busy Commuters in their Tracks
•  Citi Goes Green at Earth Day Festival