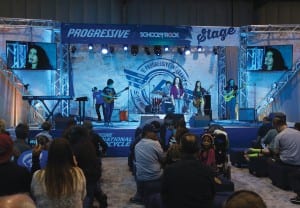 Fair, festival and enthusiast events have long been fertile territory for event marketers hoping to gather consumer data. So when one of the industry's biggest title sponsors (of platforms ranging from Cleveland's baseball stadium to a series of International Motorcycle Shows) decides to leave lead gen off the strategic blueprint, we had to find out why.
"This is a feel-good experience, a lifestyle play," explains Todd Matthews, senior marketing events specialist at Progressive. "As an insurance company, we can never out-Harley Harley-Davidson and we will never be Ducati, so we have to be the platform that provides the experience, and we want it to be the very best experience."
Simply put: the insurer views its investments strictly as brand plays. The company doesn't solicit data from attendees and there is no hard sell.
That same strategy applies to its recreational vehicle and boat show activations, too. This year, Progressive launched a national tour that will travel to 25 events and reach three million RVers. The centerpiece of the tour is a customized 34-foot RV with a foldout stage, lounge area hosting a digital prize wheel and t-shirt press, as well as a photo op with a lifelike model of Flo, the company's delightfully quirky advertising spokeswoman. Progressive's Insiders Guide, similar to Yelp, is a virtual destination and social community where consumers can enter their favorite restaurants, routes and pet-friendly locations. None of the activities require consumers share any personal data to participate.
"Insurance is intrusive enough," Matthews says. "We don't want to talk about it, but we all have to have it. I just want to show that we are a leader in the category and that we are enthusiasts ourselves."
That soft-sell philosophy, plus Progressive's ranking as a leading motorcycle insurance provider, informs the company's event marketing strategy (match action, Boulder, CO, handles). Progressive partners with top show organizers, which is Advanstar for the motorcycle show, where major OEMs and manufacturers unveil the latest street bikes, dirt bikes, sport bikes and cruisers in 12 major markets across the U.S. More than 500,000 enthusiasts attended the shows over the 2013-2014 season.
Progressive reaches attendees via multiple touch points throughout the motorcycle shows. First stop is the Progressive Welcome Center in the lobby where they receive a VIP gift such as a helmet bag or eyeglasses, a trade show bag and a hint of what's in store. Inside, a huge Progressive marquis details Progressive-sponsored activities such as lessons in pinstriping from leading pinstripe fabricator artists. Attendees can test their skills at the Race America motorcycle slot track race created in partnership with Slot Mods of Detroit for a chance to win kickstand pucks, detail cloths and helmet bags. They can try out a custom tablet app to see what new colors would look like on their tanks. A PA announcer throughout the day tells people to look inside their bags for winning tickets that can be redeemed for prizes at Progressive's SurPrize Center. This year, students from local School of Rock programs performed on the show stage.
There is an Agent Alley where brokers on-site will work up a quote and answer questions, but for Matthews it's not about names or email addresses. "The most good for me is that Progressive is in the consideration, and I feel that our strategy of connecting sponsorships with social and activation is the key to success."
From the April issue