In 2013, Microsoft boldly tore down its annual Worldwide Partner Conference to its studs, and reimagined the entire show. The resulting four-day event for more than 14,000 attendees was, by all accounts and metrics, a total success. So what did the company do when it came time to take something that was good and make it even better? Event Marketer headed to Washington D.C. to check out the company's sophomore effort, and talked to senior director of worldwide partner community events at Microsoft, Kati Quigley, to find out (FreemanXP, Seattle, handled).
1. Ramp up the Research.
It might seem counterintuitive, coming off a killer launch of a totally reimagined show, but there's actually no more critical time to look at your event's metrics than going into year two. "Because we wanted to find out what worked and what didn't, we had to do a deeper dive than normal into last year's results to really understand what resonated, what moved business forward and what things were not worth the resources," Quigley says.
2. Make a Mantra and Stick to It.
Quigley's team developed a set of guiding principles that the team could refer back to when it came time to make decisions about everything from sessions and content to look and feel. The first mantra, "Simplify," helped Quigley's team address year-one attendee feedback head-on with a more streamlined and manageable program that took 24 tracks of educational content down to five. The second mantra, "Engaging Hearts and Minds," helped Microsoft find ways to boost engagement and make more meaningful connections between the company, its partners and its products (read on for more on how they did it.) And the third, "365-day Engagement," guided the team towards strategies the company could use to get partners to spend more time with each other and Microsoft every day—all year long (see No. 5 below for more). The key to making mantras work is sticking with them, Quigley says. "You have to [be willing to] say, 'If it doesn't do something going towards one of these three guiding principles, then let's not do it.'"
3. Take it in Baby Steps.
In year-one of its reengineered partner conference, Microsoft transformed its internal booths from a mish-mash of unrelated demo experiences into a more visually consistent set of exhibits that looked like they all came from one company. In year two, Quigley's team took it even further, creating a mini campus called Microsoft Central, where all of the exhibits, demo stations and signage were streamlined into a single brand experience that was cohesive but still flexible enough to meet the unique needs of each of the product groups (internal groups could "plug and play" from a set of pre-designed set pieces). Quigley says evolving the overall experience in phases helped ease partner groups into a new way of exhibiting. "There's no way we could go from where we were two years ago to Microsoft Central without doing that last year," she says. Microsoft's partners were so thrilled with the change that other events are going to use the approach, too.
4. Ditch the Demo.
Key to meeting the mantras "Simplify" and "Engaging Hearts and Minds" was showing attendees what can be achieved when partners collaborate with Microsoft's products. To do that, Microsoft Central was comprised of a series of eight scenarios that gave its products more meaning through real-world contexts. Coca-Cola, for instance, brought its distributors to the conference to show how Microsoft's products enhance their inventory system. Two Delta AirLines flight attendants showed attendees how the company's technology helps them with on-board food and beverage purchases. "Instead of lots of random products, it was, 'Here's how our products work together and here's the real solutions people have found,'" Quigley says. "It was about helping them understand how they can build solutions but making it easier to digest."
5. Amp Up the Conversation.
Like most b-to-b conference marketers, Microsoft struggled with keeping the conversation going after its annual event. Quigley's team tackled the challenge in year-two by executing a new digital community strategy. This included a partner-centric WPC Blog, two Facebook accounts, two Twitter accounts, a LinkedIn account and an internal platform and app called WPC Connect where attendees could join discussions by topic and, at the show, join or set up meetings and then reserve tables in a special WPC Connect area on the show floor. Since starting the digital strategy, the team has seen a 40 percent increase year over year in people visiting and engaging with the website, and a 197 percent increase in engagement.
---
---
6. Empower Your Evangelists.
New this year, Quigley's team gave several partner-run groups, like Women in Technology, a permanent space in the "Commons" (the exhibit hall) to help foster the community and empower its partner-evangelists to keep connecting and sharing the WPC love. "The whole idea is how do we get partners to connect with each other all year," says Quigley. "If community is one of our goals, let's make it front and center—that's how they can do more business."
7. Offer More Access.
From the company's top leadership to its top-selling partners, Quigley's team found new ways to give attendees the face-time they wanted with the luminaries leading the industry. New in year-two, the company gave top-selling partners special seating at the keynotes in an on-floor VIP area, complete with swag bags, iced coffee and comfortable club chairs. At a reception for 150 top sellers, partners could say hello and snap a selfie with new Microsoft ceo Satya Nadella (talk about access!). Also new in 2014, WPC offered a "find an expert" app that helped connect attendees to a subject matter expert using technology that geolocated the right match within the Commons.
8. Never Settle.
Bottom line: just because you score a 10 on your event survey doesn't mean you will again next year. Everything, from the industry you're in to popular culture to the technology you use, is progressing—often at lightning speed. Therefore, change is always necessary. "Even if you're doing the same exact same work that was excellent the year before, you always have to continue to improve," says Quigley.
9. Don't Sweat the Small Stuff.
Finally, remember to keep your eyes on the prize. "Don't think about what tactics should you improve," says Quigley. "Transportation and food and beverage are important, but make sure you're looking at the business objectives, and if you are meeting those business objectives. At the end of the day that's why you're having the event."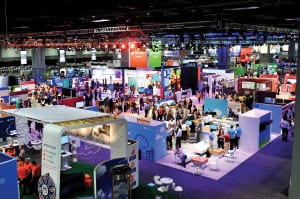 Inside Microsoft's High-Touch Partner Engagement Strategy
One of the driving forces behind Microsoft WPC's transformation is its network of vocal and active partners. And that's by design.
Rather than relying on electronic survey data to tell the company what the sentiment is on the show floor (or ignoring exhibitor and attendee feedback altogether like some companies do), Microsoft uses a high-touch, high-engagement strategy to keep the lines of communication open between its event team and its partner-exhibitors.
The company maintains a partner engagement board comprised of about 50 partners from all over world that meets in person two times a year: once each fall in Redmond, WA, at the company's headquarters and again in February at the WPC venue selected for that year's show (the event is held in July). At the meeting, the team goes through each area of the event and the partners are invited to speak freely about what they like and what they'd change at the event.
In addition to the bi-annual meetings, there are monthly conference calls, sometimes with show updates, and sometimes to solicit specific feedback on a particular idea or strategy. "We want to keep the calls more conversational," says Quigley. "Here are the updates, here's what we've made progress on. You gave us input on something and we decided not to do it for this reason. So they know we're listening." Microsoft also publishes a newsletter every month for its partner network.
There is also a 15-member volunteer digital team made up of partners that meets every week for 30 minutes to troubleshoot and test things like the show app and other electronic tools. Quigley credits them for making major improvements to the show app from 2013 to 2014. During the event, the partner board is also given access to a special email alias that goes directly to Quigley and a few select members of her team. They can email about anything, from a dirty bathroom to a wi-fi dead zone to what they're hearing partners are saying about the event. "There are 50 extra people out there engaging in the event with partners who are able to tell us what they're experiencing, in real time," says Quigley.
As a thank you for their time, the partner board gets a tour of the show before anyone else sees it, and Quigley's team treats them to other VIP perks and gestures of appreciation. But most just enjoy being a part of the process, and having their voices heard.
"We have found as we continue on that more want to be part of it," says Quigley. "We went to three year terms with the members, so every year we add a third and take off a third, but it's funny because they don't want to leave. They enjoy it."
This story appeared in the Nov/Dec 2014 issue