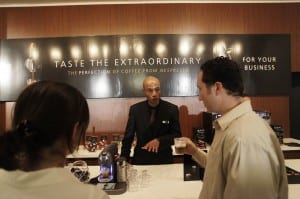 Nespresso, the high-end Swiss single-cup coffee machine brand, for two weeks this fall activated experiences at two New York City landmarks to connect consumers with its premium Grand Cru coffees and celebrate the 10th anniversary of its sustainability program. The activations, which included a photographic exhibit at Rockefeller Center and a pop-up boutique in Vanderbilt Hall at Grand Central Terminal, are the largest events produced by the brand to date as it increases its presence in the U.S. market. Nearly 50,000 tastings took place over the two-week period.
At Rockefeller Center, from Sept. 23 to Sept. 27, the Channel Gardens between 49th and 50th streets became an outdoor exhibit featuring images of Nespresso's coffee culture by photographer Sylvere Azoulai. Nespresso coffee specialists led visitors through tastings of its Pure Origin Grand Cru coffees.
A pop-up boutique comprised of a 72-square-foot glass wall in Grand Central Terminal from Oct. 1 to Oct. 4 featured a digital installation that led consumers to the Grand Cru best suited to their tastes. Nespresso baristas and coffee specialists prepared the coffees and educated visitors. The 30-foot by 50-foot space included 60 feet of coffee bars and 30 feet of Nespresso machine displays.
"As Nespresso expands its footprint in the U.S., we are creating moments to engage coffee enthusiasts with fully sensorial experiences that highlight the taste of Nespresso Grand Crus and our sleek, easy-to-use machines," Frederic Levy, president, Nespresso USA, told Buzz. "Our goal is to put the top one to two percent of the world's best coffee in consumers' hands so they can taste it and feel empowered to create the same experience at home." Agency: MAS Event + Design, Brooklyn, NY.