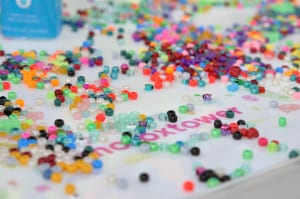 Electronic dance music festivals—or EDM, as the genre is referred—are colorful experiences chocked full of the enticing millennial target. To promote its Moto X line among this demographic, Motorola has partnered with Live Nation to be the exclusive EDM handset across the concert promoter's U.S. EDM festival portfolio in 2014. The brand is building off successful one-off activations at EDM events including Insomniac's Beyond Wonderland Festival in Mountain View, CA, and HARD: Day of the Dead Festival in Los Angeles last fall.
EDM festivals are all about the sensory experiences, so Motorola is engaging fans through touch, sight and sound—and a decidedly more subtle approach to on-site branding. Drawing a parallel to the Moto X, a completely color-customizable phone, the brand is building out Moto X Kandi Shops (made from connected shipping containers) at each stop. "Kandi" is an EDM culture word for colorful, beaded bracelets that festivalgoers create and trade. Throughout the festivals, often 10 to 12 hours long, consumers can enter the shop, choose and scoop handfuls of beads much like they would in a candy shop and create their bracelets at nearby worktables. Adjacent to the shop is a performance stage where festival-themed characters come out to perform.
Rising from the footprint is a 60-foot-tall LED custom-built tower surrounded by a geo-fence technology virtual perimeter, which captures photos that consumers share on social media with hashtags #MyMotoX and #MotoKandi and displays them in real-time. (So far, the brand has captured and displayed some 42,000 posts of social media content, including 9,000 brand-relevant images.) On-site cameras capture consumers' reactions to their image on display, completing the experience. Throughout the festival, the tower displays graphics and light shows with the Motorola logo. During specific intervals throughout the day, it features a countdown clock and then a two-minute pyrotechnic display shooting from the top of the structure.
"I hesitate to say we're trying to be subtle, because we aren't—we're just trying to integrate into the environment, become part of the tapestry of the festival and appeal to a captive, younger audience," says Barry Smythe, director-marketing and communications at Motorola.