It was 73 and sunny the day we traded in our sunglasses for a baseball cap and a tour of the Major League Baseball All-Star FanFest at the San Diego Convention Center.
The event, which ran from July 8-12 and takes place as a lead-up to the league's annual All-Star Game, bills itself as the "largest interactive baseball theme park in the world." And for baseball fans, it doesn't disappoint. From autograph signings with some of the biggest names in the game, to batting, pitching and base-stealing experiences, to in-depth clinics on a real-life ball field, the event offered a little something for fans and rookies alike.
Of course, the brands come to play, too, so we adjusted our team cap (go Mets—this is your year!) and set out to experience everything the 2016 FanFest had to offer. Here's a brand-by-brand replay of all the action.
MasterCard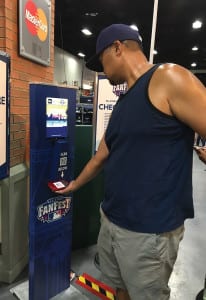 As the preferred card of Major League Baseball, MasterCard took top billing across all FanFest branding, including the All-Star Game website, where ticket buyers could sign up in advance for a FanFest Experience Pass. In exchange for sharing some personal data, the pass gave ticketholders access to faster entry lines and rewarded attendees inside for participating in the more than 30 different activities on offer. Attendees "checked in" to each experience by scanning their RFID code at kiosks throughout the event (they could sign up on-site as well). The more they scanned, the more points they earned toward a shot at prizes including autographed bats, FanFest Express Lane bracelets (a nice perk for some of the activations where the lines were long) and other MLB-themed swag. We're sure this strategy earned MasterCard some sweet lead-gen numbers plus some useful behavioral data on what attendees visited most at the event. Agency: Octagon.
New Era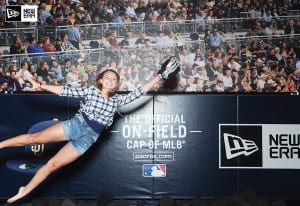 Speaking of baseball caps, official on-field cap New Era came to get down with a sprawling footprint that gave serious Minor League cap enthusiasts all the access they needed to nerd out among the brand's 160 signature caps, while offering general thrill seekers a shot at some fun and games. Like the popular fly ball photo op, where attendees could jump into a foam pit and take home photographic evidence of their most impressive catch. And the "Wheel of Fortune"-style trivia game that pitted four attendees against one another on stage to answer baseball-themed trivia questions (winners received a water bottle, photo holder, t-shirt or hat). An embroidery station offered those who purchased hats on the spot an emblem on their hat. Those who spent $125 could get a custom bill. A solid engagement strategy for an endemic retail brand that could have just displayed some hats. Agency: Relevant, New York City.
Nike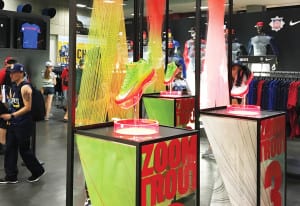 And speaking of just displaying some hats, Nike came to the FanFest with a sleek little retail footprint that sported some beautifully designed freestanding exhibitry, but, in the way of engagement, only offered on-site t-shirt customization. Attendees could pick from a palette of colors and designs and then add custom details like their name, player number or the All-Star Game logo. The shirt was screen-printed at the event. It felt a little small fry for such a big brand, and lacked some of the cool factor of past Nike activations that had attendees designing custom shoes with the help of artists and designers. Bring back that signature street style, Nike. We miss it.
Majestic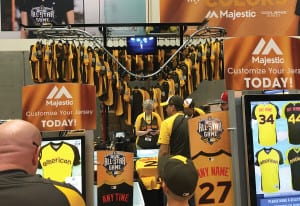 This one gets our vote for most creative use of a laundry carousel—ever. With the carousel and its vibrant display of American and National League jerseys as its backdrop, the official uniform of Major League Baseball brought a fully functional silk-screen studio to the fest. Attendees ordered and customized their jerseys on any of five touch screen kiosks and about 20 minutes later—voila! Their shirts were ready to go. Two green-screen photo activation stations captured attendees in their new jerseys and offered social media tablets for instant sharing. A live dj kept the energy high and the tunes pumping while a chill lounge space filled with white couches invited some dwell time. Overall, a spot-on strategy for generating foot traffic, boosting on-site sales, using technology to streamline the process (seriously, the ordering was a snap) and using an unexpected design element to reinforce what the brand is all about. Majestic, indeed.
Under Armour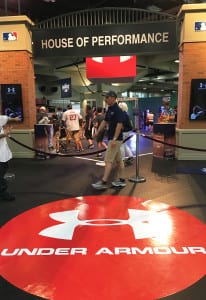 Under Armour's House of Performance delivered on its name with three athletic-themed challenges that took place around the bases of a miniature baseball diamond. Attendees were guided first to third base for a "Zero to Ninety" sprint that challenged them to "steal second as fast as they can." A big screen with game footage and audio, and a team of encouraging staffers added to the excitement required to beat the clock. Next up, fans went to first base for the "Game Saver" where they dove for the game-saving catch—caught on camera, naturally. Finally, near second base fans could grab a bat and have their photo taken as the "Face of the Franchise" by looking in a mirror and trying to match Bryce Harper's "legendary intensity." On their way out, all participants received a photo featuring three images: one from their sprint (including their time), one from their game-saving catch and one from their pose with the bat. Agency: In-house.
Scotts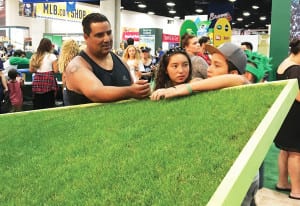 One of our faves at every FanFest, we love what this non-endemic brand does to make the connection between its role as the official lawn care company of MLB and its at-home lawn care products. Center stage within the footprint: a diamond-shaped section of turf that no one, and we mean no one, could resist touching. Three displays along the back walls offered more tactile experiences with small boxes of turf used at various MLB stadiums, plus a Ballpark Beautification display that featured a living garden (staffers handed out seed pods to drum up foot traffic—we got basil). There was a photo op and a face painting station for kids. And finally, the hot commodity of every MLB FanFest—Scotts handed out foam Mohawk hats shaped like, you guessed it, grass. (Fun fact: There is a Doritos foam hat selling on eBay for $140.) Agency: Wasserman, Los Angeles.
Bank of America
The official bank of the MLB All-Star Game this year had attendees registering for a customized registration card (featuring their favorite team logo), then swiping them at different activities for a shot at prizes. At one of three "Three Pitch Challenge" touch screen kiosks, fans earned points for answering baseball trivia questions correctly. At the #MLBmemorybank video engagement, attendees could share their favorite baseball memories and then have their footage edited into a package with a customized intro based on the memory they shared by Red Sox player Kevin Youkilis. (The video maps back to a yearlong effort by the brand to have consumers share their favorite memories to the same hashtag.) Finally, at the "Memory Vault," fans could swipe their cards at a bank of buzzers to see if their cards unlocked a giant bank vault and the prizes within it, which included All-Star Game tickets, ball shagger experiences for kids, signed bats and other cool swag.
We bumped into Amanda Voell, vp-marketing at Bank of America, who said the activation is a newly integrated effort to support the brand's relationship with Major League Baseball and its Cash Rewards credit card. "It's about sharing your favorite memories, and the opportunity to make new ones," she said. "Whether it's signing up for our MLB Bank of America Cash Rewards credit card and using your cash back to support your favorite team, or getting a chance to open our memory vault and winning All-Star tickets to make those new memories, it's really all about how Bank of America can help you achieve your perfect MLB memory."
When we visited the vault, we counted more than 25 attendees who swiped multiple card readers and then walked away empty-handed, which seemed like a missed opportunity to use the excitement of the flashing red lights and the vault opening more frequently as a means to generate some foot traffic around the activation. Nevertheless, everyone who registered and participated in at least one activity walked away with something from the rewards bar, which included sunglasses, bracelets and towels depending on how many points you earned. Agencies: Jack Morton Worldwide, Octagon.
Esurance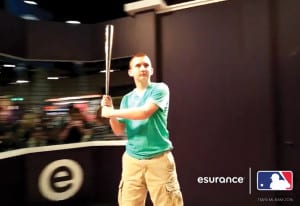 Esurance is the title sponsor of the MLB All-Star Game Ballot, the voting mechanism for the game that went digital for the second time this year. Its activation at FanFest offered some standout digital experiences, too, including the event's only 360-degree video. Inside a two-story "Esurance Field," attendees could step into a 360-degree photo set where their best at-bat was captured then emailed for social sharing. (Descriptions don't do these videos justice—check them out online for a taste of the action.)  Agency: GMR Marketing.
T-Mobile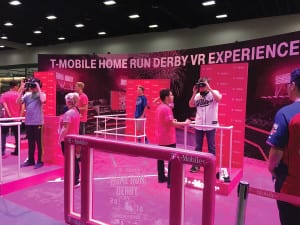 T-Mobile's Home Run Derby Experience activated in both the real world and the virtual one. In the real world, fans could take a shot at hitting one out of the park in a foreshortened stadium setting. At a separate footprint, fans lined up to put on a pair of VR goggles and experience what it's like to aim for the fences (without all that pesky physical exercise). Tapping the goggles sent commands to hit the ball. A nice use of saturated color for the booth design (you couldn't miss the signature T-Mobile pink), and a clever way to use participants as entertainment capable of stopping people in the aisles. Double play!
Chevrolet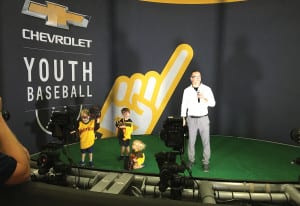 Chevy's All-Star Playground did a nice job of offering a "festival within a festival" environment that set it apart from the rest of the activations at the event. Helping to create that carnival ambience was a massive LED screen suspended over the footprint that ran a continuous feed of social media posts, live feeds from Chevy emcees reporting from experiences throughout the space and compelling video content that reinforced the brand's relationship with youth baseball programs. For fun, attendees could step into a 180-degree photo op for a snapshot of their mid-air attempt at the game-winning catch. Those interested in physical challenges could get in line for a swing analysis or to test their pitching speed. All fans that filled out a short lead-gen form at any of more than a dozen tablets took home a free baseball. And the brand, naturally, set out several of its cars on display, cherry-picking just the models that the All-Star MVP would get to choose from. In a footprint that teemed with energy throughout the day, the only slow spot seemed to be the Selfie Studio, a DIY photo set with a sports desk and adjacent step-and-repeat backdrop that seemed like a wasted opportunity for more brand engagement. To be fair, we heard players made appearances there, which gave the area a stronger sense of purpose. Agency: Jack Morton Worldwide.
This story appeared in the August 2016 issue