Microsoft's Worldwide Partner Conference landed this year at the George R. Brown Convention Center in Houston, a city whose East Downtown district, or "EaDo," is undergoing a cultural and urban revitalization. It was an appropriate venue for Microsoft's biggest annual partner event, which this year from July 7 to 11 brought to life its own revitalization effort by reimagining its entire event.
A streamlined content story based on four major industry pillars drove the structure of the conference, from the keynotes to the design of the expo floor to the breakout sessions. The more than 250 sessions were color-coded based on the pillars—Big Data, Cloud, Devices & Mobility and Enterprise Social—adding to a cohesive experience for the 14,000 paying attendees who came to hear what's next for Microsoft, how Microsoft is going to help them grow their business and, most importantly, to network.
"We wanted to shift from how we internally think about our products to how the industry thinks about the IT business," says Kati Quigley, senior director of worldwide partner community events at Microsoft and the champion behind the program. "Instead of going to our partners with a kind of silo approach of our product offerings, we went into it with more of this industry view; when our partners are developing solutions, it is based on these four mega trends, as opposed to a particular product. It's never one stand-alone product, typically, that you're planning a solution with."
All content roads led to The Commons at WPC, an expo hall inspired by thriving city life and how modern business is conducted. It's where Microsoft this year pulled in show components that in the past had functioned somewhat independently (Agency: CRG Events, Seattle. Design: Freeman, Dallas). A color-coded map on the back of badges made navigating this territory easy, from the food service on three ends (buffet-style dining or grab-and-go), moving inward through meeting areas, world regional lounges, neighborhoods of product solutions to City Center. There was also a series of "parklets" (shout-out to Portland) called the Low Line—which functioned like Manhattan's High Line—with turf grass and Adirondack chairs.
Light music reverberated throughout the hall. Projected clouds rolled by above. There was even a cooling breeze floating through the air. It was WPC City, after all. Here are a few of the major sites to be seen: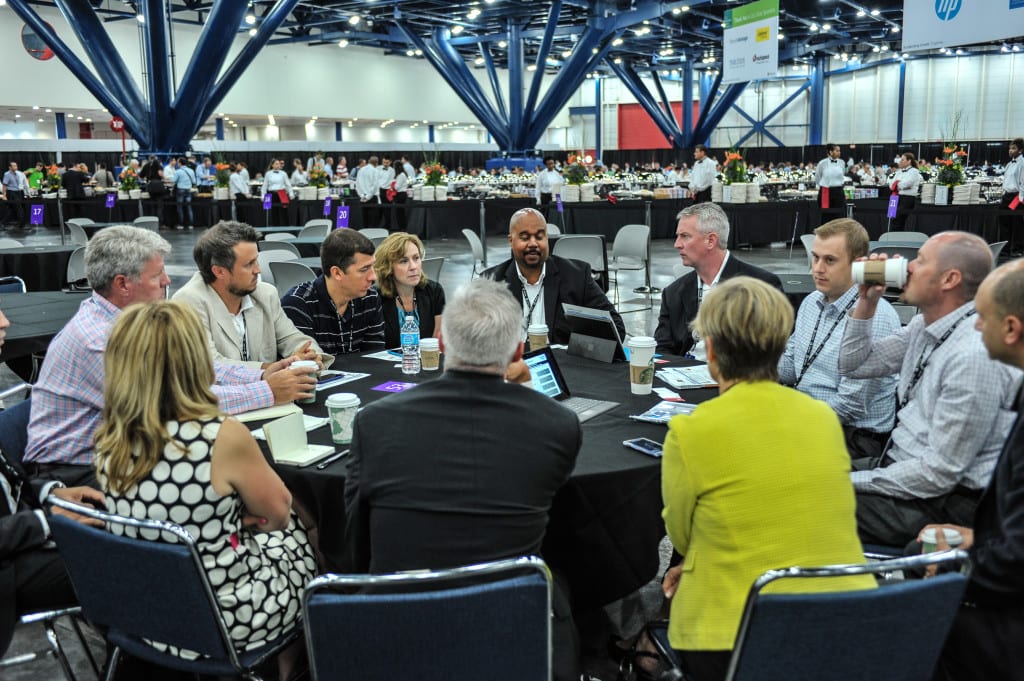 WPC Connect
To create networking opportunities, Microsoft offered WPC Connect, a meeting scheduler accessed through the event app or on the digitalwpc.com event microsite. In conferences past, meeting space was relegated to a separate area that made impromptu meetings a little awkward, as attendees took the long walk to an isolated space with people they likely had just met. It wasn't how chance meetings might occur on the fly in today's business world. So this year, two meeting spaces were established at either end of the expo hall.
These cordoned-off areas felt much like the dining rooms of a restaurant, and came complete with a team of "hosts" manning a check-in desk. The tables—four tops or 10 tops—featured linen coverings and small signs that identified them by number. Through WPC Connect, attendees opted-in to be invited to meetings. They could reserve tables ahead of time as part of their schedule, or schedule on the fly by browsing the attendee directory. They chose a table size and then received their table number. This year marked a record number of meetings at WPC, with some 20,000 meetings facilitated over the course of the four days.
"This goes back to our initial thinking with this urban inspiration of how people connect, communicate, meet and talk on a normal day, and so it is places like WPC Connect that really energized people and gave them a natural setting," Quigley says.
Executive Conference Center
The Executive Conference Center or ECC was another feature Microsoft pulled into the expo hall. Rather than rent hotel rooms and transform them into conference rooms for executives, which is the typical approach, the brand deployed an executive suite in an area of the hall, complete with a concierge desk. It was plush and quiet. Executives could reserve private rooms with presentation monitors and boardroom tables, meet in open lounges or conduct personal business at workstations. The space offered high-touch amenities such as a café, Skype Bar and live television.
The ECC allowed Microsoft to create a custom high-end corporate environment it couldn't replicate with hotel rooms with the added benefit of having it on-site at the event–an exciting proposition for attendees hoping to accidentally run into ceo (and resident rock star) Steve Balmer.
Social Hub
Microsoft this year pulled its social media command center out from behind the scenes and stuck it front and center, literally, in the expo hall at City Center. In the hub, a team of enlisted influencers had their own workspace to promote the conference and amplify the excitement through their channels. Back in Redmond on the Microsoft campus, an in-house team answered live questions and comments about WPC that came through social media. The hub played host to informal presentations from the brand's Social Squad on incorporating social platforms into marketing strategies.
"This was a fun element to do at that high level, and then drive people back to the sessions that augment that idea and support it," says Melissa Porter, digital lead for WPC.
A living social media wall served as a visual draw, where tiles of screens displayed live tweets posted with hashtags #WPC13 or #new2WPC, as well as images from the day's keynotes. In addition, there was a step-and-repeat with a professional photographer, so attendees could update their personal headshots. And to make sure it was the preferred urban neighborhood epicenter of day and night life, the Hub's bar offered lattés by day, and margaritas by night.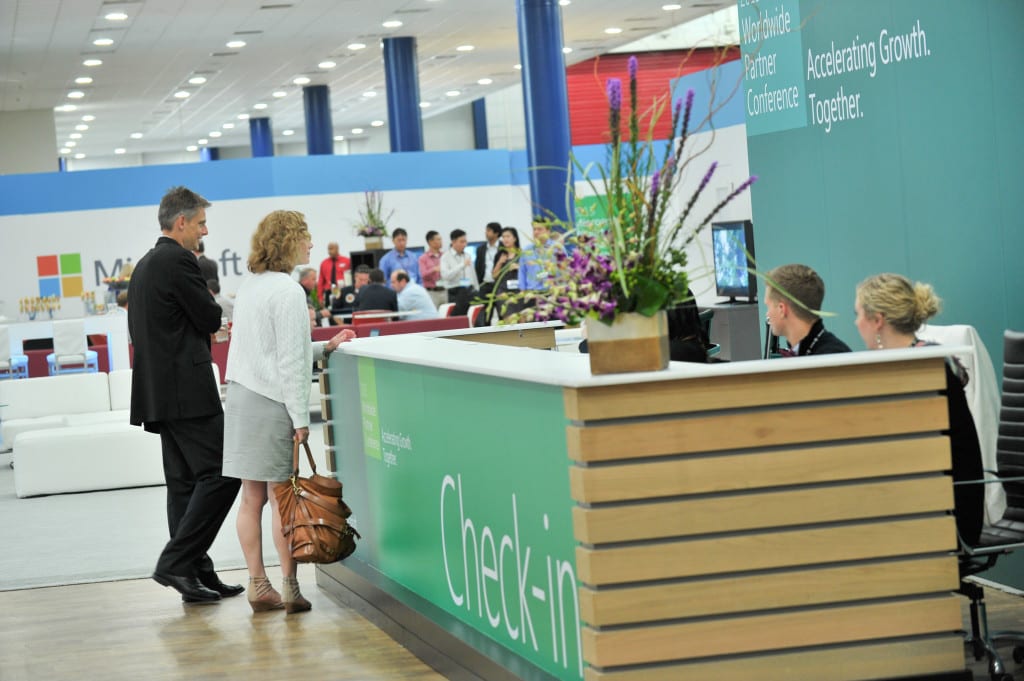 First-Time Attendee Program
Microsoft found that while turnover of companies attending WPC is not high, turnover of people is—about 30 percent of attendees each year are new. The solution was an inexpensive program to help new attendees have a productive experience. The program experience began on the WPC event site digitalwpc.com, where on a First Time Attendee page veteran partners offered tips and tricks, in addition to other resources. At the event, there were meet-up spots and new attendee luncheons, and designated seating areas at the keynotes, so these individuals could network with other like-minded partners and Microsoft employees.
The cheapest and most effective aspect of the program? Red lanyards for new attendees, and black for return attendees. Event alumni served as designated mentors, greeting first-timers and striking up conversations with them throughout the experience. We saw a lot of this in action, and it was great.
Emerging Leader Track
Microsoft this year implemented an idea based on a suggestion from its Partner Executive Board, which advises the brand on events. The tech industry is facing a talent gap that lies at the senior-management level among those that have executive level potential. Microsoft this year encouraged attendees to bring a friend or a colleague, but in particular, an emerging leader.
"We said, bring them here, we'll train them, we'll give them what they need so that you can retain them, plus they're going to leave feeling inspired having been around all these C-level executives," says Heather Doran, marketing lead for WPC. "This was another way to get additional registration, but to also help fill the talent gap for partners."
A new Emerging Leader Track catered to these attendees, offering session topics such as skill-set building for high-potential employees and leaders at companies in the Microsoft partner ecosystem, and dealt with foundational concepts for future leadership roles.
"That's part of our strategy, obviously, of retaining our partners and keeping them loyal to Microsoft, but also taking on those younger, newer industry partners," Quigley says. "They're the future and if we have them engaged now, hopefully they'll continue to be engaged with Microsoft."
Engaged enough, perhaps, to register for WPC 2014, which Microsoft opened for the first time during this year's conference. Next destination: Washington, D.C.
This story appeared in the August 2013 issue