Jeans and football fans go hand-in-pocket. So, when it came to inking a 20-year naming rights sponsorship of the 49ers' new stadium in San Francisco, Levi Strauss & Co. didn't hesitate to go for the touchdown. But in addition to apparel, and the fact both call San Francisco home, Levi's and the 49ers share a common interest in innovation, says Stacey Doren, head of Levi's Marketing for the Americas. At Levi's Stadium, technology is helping shape fan connections to the team, the game and the Levi's name.
"There are a lot of brands that connect with fans inside a stadium and through the NFL, so we're trying to think of ways to break through the clutter," Doren says. "There's so much opportunity here with fans that already love Levi's and are loyal Levi's wearers, as well as a whole generation of fans who we haven't connected with yet."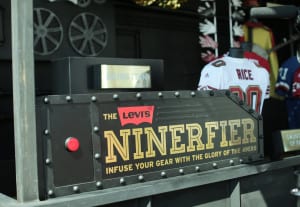 Engagement begins with the Levi's Ninerfier trailer outside the stadium in the Faithful Mile activation zone, where fans can get their gear "infused" with positive team vibes. After pushing a big red button the contraption lifts up a fan's item and rubs and swishes it against artifacts from 49er history. Among artifacts: famous jerseys, game gloves worn by star players in key game moments, a Super Bowl football, cheer pop-poms and super fan Banjo Man's cape and instrument (check out this Vine of the action). Outside of the naming rights sponsorship, Levi's plans to take the Ninerfier asset out on the road to tailgates and retail stores throughout the year.
Vine is playing a large role in Levi's social strategy. The brand partnered with the Forty Viners, the 49ers social team of "Vine artists," to generate content in and around the stadium, including fan styles and other fandom in the app's six-second format. Vines are showcased both on the Stadium JumboTron as well as amplified externally on Vine and Twitter.
A key tech element in the naming rights sponsorship is the Levi's Stadium mobile app. By downloading the app, 49ers fans can secure a parking pass or check out the view from their seat. At the game, they can order a beer and hotdog for in-seat delivery (get out of town!), see how long the lines are for the bathrooms, check out replays and shop for Levi's apparel. "There are quite a few opportunities to infuse Levi's brand content into this app moving forward, so we're really just getting started," Doren says.
Apparel, of course, plays a role in the naming rights sponsorship as Levi's has launched a special collection of trucker and satin jackets and stadium tees. But on-site, fans will find every staff member, from concessions to the Sourdough Sam mascot to the Gold Rush cheerleaders outfitted in Levi's. And throughout the season, fans wearing Levi's will be randomly rewarded with gifts including tickets to upcoming games, field access passes or upgrades to Levi's premium 501 Club.
Jeans really do come true.