LEGO hit the road this summer to reinvigorate its successful Ninjago franchise and promote the related Airjitzu game with an immersive and challenge-driven activation. Launched in early July, the Ninjago tour has traveled to seven large events, including the California and Iowa state fairs, as well as a variety of smaller, high-traffic family events ranging from camps to festivals. The tour wraps the last week of August.
In a tactical move, LEGO is not promoting the tour. "We're really trying the stumble-upon approach—it's a formula we've used before and it works exceptionally well, where you go to a venue that has built-in traffic like a state fair and rely on the walk-by traffic," says Vince Rubino, manager-event marketing at LEGO. "We know if we promoted it, it would draw a lot of existing fans and that wasn't our objective."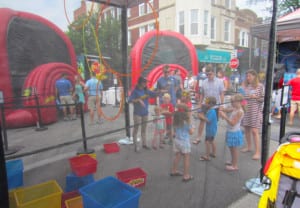 The activation, designed to target 7- to 9-year-old boys, "recruits" attendees to become ninjas in the Ninjago story, a LEGO collection and cartoon about a world where ninjas master skills and battle enemies. Two 13-foot-tall tents make up the footprint, offering enough room for Airjitzu toy "flyers" to be launched. Consumers check in at a welcome table with a flat screen TV rolling Ninjago content, including clips from the show, commercials and kids mastering tricks. Brand ambassadors then invite consumers to become… Masters of Airjitzu.
After picking up ninja facemasks, posters and booklets, consumers enter a training tent where they practice launching their Airjitzu toy (which features a rip cord) through hoops and into colorful bins. The challenges are designed with equipment that parents can replicate at home using items such as laundry baskets.
Next up is the Challenge Dome tent, an inflatable area where consumers "battle against the ghost ninjas" in 60 seconds, launching the Airjitzu flyers at as many ghost targets they can within the allotted time. Wrapping up the experience is a photo activation on the backside of the tent, featuring branded landscapes and different characters from the Ninjago series.
For LEGO, the activation represented a new strategy designed to draw in different audiences. While for blocks and kits, LEGO typically designs footprints based around building and displaying, this required a footprint that had kids moving.
"This is a recruitment initiative to introduce this new play pattern to kids who might not sit for an hour or two and build a LEGO set, but since this has an action to it and it's quick and easy to build, and you can do stunts and tricks with it, it would appeal to them," Rubino says. Agency: AWESTRUCK Marketing Group, New York City.