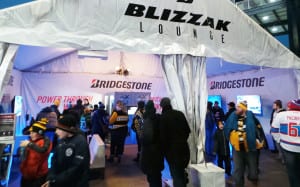 As seven-year presenting sponsor of the Bridgestone Winter Classic, the tire manufacturer has created a successful platform to build brand awareness and fan engagement, influence consumer purchase decisions and capture data for follow-up.
The Winter Classic pits two popular hockey teams in an outdoor matchup on New Year's Day and, along with fan activations at the Super Bowl and Indy 500 racing, where its Firestone brand enjoys a 100-year history in motorsports, the event has proven an effective marketing investment for the company. This year's Winter Classic, which changes locations annually, took place at Boston's Gillette Stadium between the Boston Bruins and Montreal Canadiens. (The Canadiens won.)
"Event engagement and event marketing is a huge place that allows us to differentiate ourselves from our competitors, and sports is a great way to do that with our brands," says Phil Pacsi, vp-sports/event marketing and training at Bridgestone Americas.
The sponsorship activation highlights Bridgestone as the official tire of the NHL and presenting sponsor of the event, and shines a light on its advanced performance Blizzak tires, which handle well on the ice and snow, qualities appreciated by the driving public in general and hockey fans in particular. "Hockey fans are tech-savvy tire consumers, and we are a technical and innovative brand," Pacsi says. "With the NHL, we are able to put the tire out in front of them."
Engagement activities this year, thanks to the large footprint offered by the 70,000-capacity Gillette Stadium, included an experience in which fans, clad in their favorite team's shirt and huge hockey gloves, could dive from a raised platform into a pit filled with blocks of soft Styrofoam to make a save, driving home the point that Blizzak tires, like the foam pit, give them "stopping power." Afterwards, they received a branded photo at the email address they provided during registration.
In addition, through a partnership with Xbox, fans were able to compete against each other at four NHL 2016 game stations. And at the Bridgestone Blizzak Lounge, located inside Gillette Stadium, they could warm up, recharge phones and take selfies while standing by a penalty-box backdrop.
Next up: activations in the NFL Experience and a Bridgestone Media Fan Gallery at Super Bowl 50, then celebrating its 100-year affiliation with the Indy 500. Agency: Marketing Werks, Chicago.