A few specific thoughts went through my mind as I rose on an escalator to the main level of the Connecticut Convention Center in Hartford, CT, on Dec. 6, en route to KidsFest, LEGO's ticketed traveling experiential show: Would there be lines? Would it be messy? Would there be a lot of crying? It's not exactly how I imagined I'd spend a Friday night, but if there was ever a brand to pull off a three-acre kid event that even a childless adult can appreciate, it's industry veteran LEGO.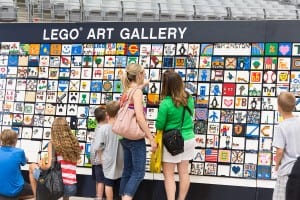 KidsFest visits about seven cities each year. Each three-day stopover is broken up into two four-and-a-half-hour intervals, a crowd-control strategy as well as one that allows LEGO and its event producer partner LIFE Marketing & Events of Hartford to clean up and prepare for the next show. There were at least three layers of security stands to pass before making it onto the show floor footprint, and I imagined it made parents feel quite secure; secure enough to give their little ones a little breathing room to explore (but not too much, of course). I also noticed among the attendees entire families, tiny tots in tow, that came for an extended night out with the kids.
As I prepared for a spin around the show, I overheard a boy exclaim, "They're all one-by-ones! They're all one-by-ones!" For those lacking in LEGO lingo, he was referring to the tiniest of LEGO blocks, the ones that cling to a single raised LEGO bump, thousands of which had been carefully pieced together to form a masterpiece of the Teenage Mutant Ninja Turtles. And yes, he was quite impressed.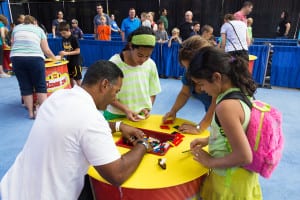 Just like their parents, kids love to be engaged, but they don't want to be too overwhelmed. And this event struck just the right balance for both adult and child. Here, we examine the ins and outs and strategies that worked with a tour of LEGO KidsFest.
Lost Zone
Located right at the main entrance to the show was the "Lost Parents Meeting Spot." There, parents could fill out a contact card with their name and cell phone number to place into their child's pocket (or shoe). This distinctive little business card had a little LEGO policeman on it; the bright yellow tent was distinctive, too. The brand even encouraged parents to snap a picture of their kid, head to toe, as an added safety measure for easy identification (New York Life, sponsored).
Rest Stops
Speaking of that "balance" of experiences—KidsFest offered a couple of quiet zones where kids and parents could cool down. At a gaming area with tables and chairs, kids could sit down and test their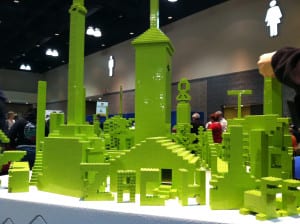 skills at a number of board games. In addition, DK Reading sponsored a "Rest Stop" activation, with LEGO books for purchase in addition to cushy beanbags and lounge chairs to have a sit in.
Floor Plan
Before arriving for the show, parents accessed a floor plan map and used a scheduler on the event microsite to plan out their day (meal options included). On-site, what stuck out immediately were the walls surrounding activity areas—all of them featured low, cloth barriers that most kids could easily see over, no "boost" needed. The final piece of the floor plan puzzle: seating, a lot of seating, neatly lined up around major open activity areas, like the Big Brick Pile. Parents could spread out a bit, maybe even read a book, while their kid spent a half-hour building something.
Sponsor Tie-Ins
Honest Tea sponsored a monochromatic build area that tested kids' creative skills offering buckets of all of the same size, and color (green) bricks and display pedestals for them to show-off their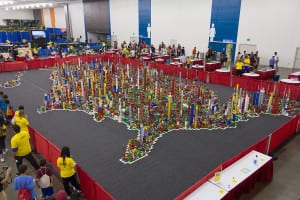 creation. "Going Green with Honest Kids" also included friendship bracelet-making from recycled pouches and a sampling station of the organic juice drink. Sponsor Bissell had a great activation, sponsoring a LEGO pick-up where thousands of LEGOS were dumped onto the floor and, after a countdown, kids raced to suck them all up with a Bissell sweeper product. (This was great for adults to watch, too, because if you've ever stepped on a LEGO, you know that it hurts.)
Top Spots
We loved the Art Gallery area, where kids could pick up a blank LEGO canvas, find a spot at one of the many workstations, and create mini masterpieces to stick onto the public gallery wall. At Creation Nation, kids and families could create personal mosaic builds to add to a basketball-court sized United States footprint. Staff carefully took each build from a drop-off and placed it on the creator's home city (or one of their choice), resulting in, at the end of the three-day event, a stunning, crowdsourced display.