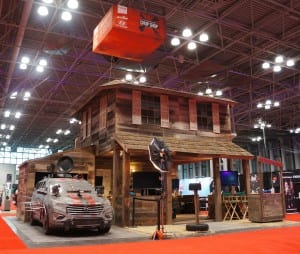 Fans of AMC's "The Walking Dead" are undoubtedly familiar with that kiwi green Hyundai Tucson the characters in the series have used for travel, escape and supplies-gathering missions amid a zombie apocalypse. As part of an integrated partnership with AMC and the franchise, Hyundai during New York Comic Con, Oct. 11 to 13, put together an event program honoring the award-wining comic book-turned-cult-TV phenomenon with "The Walking Dead: A Decade of Dead."
The centerpiece of the celebration took place in the Jacob Javits Center, where Hyundai activated a two-story booth designed to look like a post-apocalyptic farmhouse. Inside, a special-effects makeup artist "zombified" attendees, who then took part in an interactive photo activation featuring the latest Hyundai Santa Fe Survival Machine. The machine's design was based off of a winning consumer-created machine configured on Hyundai's Chop Shop app.
A short walk from the convention center, at Pillar37, was a gallery showcasing original drawings and illustrations from the books as well as artifacts from the show (among them, the sheriff's hat character Rick Grimes wears and later gives to his son, Carl). In addition, there were full-sized statues of noted characters on display, such as Michonne's shackled, armless zombie companions. Each day, visitors took home a different limited edition print signed by "The Walking Dead" comic illustrator Charlie Adlard.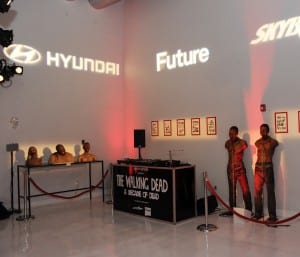 To boost media attention, Hyundai and "The Walking Dead" comic writer and show creator Robert Kirkman collaborated on a 20-minute documentary chronicling the evolution of the franchise. VIP guests and celebrities were invited to a special premiere at the gallery, where a 15-minute Q&A followed. The documentary lives on "The Walking Dead" website and on Hyundai's YouTube channel.
"Knowing we were going to be at Comic Con and that we would have the vehicle there, this celebration of 10 years of the book was an opportunity for us to extend into a really coveted piece of content that would further cement the partnerships and associations we have with the franchise," David Matathia, director-marketing communications at Hyundai, told Buzz.
Agency: Future US, San Francisco.