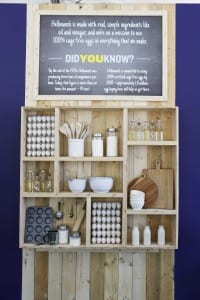 Hellmann's on Sept. 24 invited 500 New Yorkers to lunch at Hudson River Park's Pier 84 as it broke the Guinness World Record for longest picnic table in honor of the mayonnaise brand's 100th birthday. The record previously stood at 305 feet and three inches; this table measured 320 feet and two inches.
The public event featured cooking demonstrations by celebrity chef Mario Batali and displays that took consumers through the history of Hellmann's. The first 500 consumers to arrive on-site were handed their own personal picnic basket stuffed with a Hellmann's-inspired meal—a Juicy Salsa Burger, Italian-Style Balsamic Potato Salad, Grilled Corn and Pasta Salad with Green Olives and Raisins. As no meal would be complete without dessert, the brand partnered with Magnolia Bakery to serve up chocolate cupcakes topped with a branded icing design.
Through a Facebook contest consumers could vie for VIP status and the opportunity to meet Batali at the event. Starting last May, Hellmann's fans were invited to virtually co-create recipes with Batali. They could add ingredients, share techniques and write a personalized recipe description on the page, all with the goal of putting a "modern twist" on classic Hellmann's "Blue Ribbon" recipes. Each submission through the Hellmann's Making Over the Best Facebook app served as an entry to the contest. Batali selected three finalists and, ultimately, the Hellmann's Facebook community voted on a winning recipe.
Hellmann's enlisted celebrities to boost media attention including, in addition to Batali, actress Katie Holmes, TV personality Andy Cohen, Paul Pierce of the Brooklyn Nets, and chefs Tim Love and Aaron Sanchez. Each shared "personal Hellmann's stories" and helped promote the brand's commitment to provide one million meals to the nonprofit Feeding America. The strategy resulted in more than a half-billion earned media impressions. After the event, the brand donated 1,000 jars to City Harvest and donated 90 percent of the wood used to create the table to Build It Green! (both New York City-based charities).
"While moms ages 25 to 54 with kids are the primary purchaser, we know that the whole family uses Hellmann's and it's been a key ingredient in the food and dishes they love to eat and share," Brian Orlando, senior marketing director at Hellmann's, told Buzz. "This program was designed to celebrate the brand's heritage and create an unforgettable celebration that invited Hellmann's fans everywhere to join them at the World's Longest Picnic Table—the literal embodiment of shared moments around the table." Agency: Eventage, South Orange, NJ.