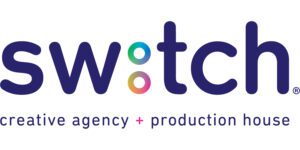 WHERE IDEAS + RESULTS ARE CONNECTED
Switch is an award-winning, full-service creative agency + production house that specializes in experiential, traditional and digital marketing. Our home is a 100,000 sq ft playground that includes our Creative Shop, Fabrication Shop, Print Shop, Staging, Event Technology, Video and Production Studio, Digital Lab and much more. And we invite you to join us to take advantage of it all.
COMPANY CULTURE: Our people are an uncommon collective of thinkers, doers, creators, makers, solvers and builders. Our strong culture is driven by an internal team called SwitchLife, an employee-driven group to deliver fun activities and events to team members.
CORE CAPABILITIES: Switch offers a full spectrum of marketing resources. We specialize in business meetings, live + virtual + hybrid events, field marketing, brand immersion, trade shows, exhibits, advertising, branding, packaging, digital, B2B, B2C, video production, print production, event technology, scene fabrication, you-name-it-we-probably-do-it, and much more. We have everything under one roof for more efficient and effective solutions.
GREAT WORK: Emmy Award wins. Telly Award wins. Consistently ranked as one of the top experiential agencies in the country. Need we say more? We service clients ranging from locally-based non-profits to some of the biggest brands in the U.S., including Bosch, Anheuser-Busch InBev, FedEx and Reign.
BENEFITS: Our team members enjoy a variety of benefits that include a 401K with company match; medical, dental and vision benefits effective the first day of employment; company-provided life and disability insurance; generous vacation and holiday schedules; flexible spending accounts; referral programs and regular performance reviews.
TEAM TESTIMONIALS:
"At Switch, we have built a tight knit community that feels more like a family. Our senior leadership team entrusts all of us at Switch to create unparalleled experiences for our clients to help them reach their target audiences.

 

We are passionate and dedicated to the work we produce.

 

I love collaborating with other departments and seeing a white paper drawing of an idea come to life through renders, build docs and then the production of the final product."

-Megan Burmeister, Senior Project Manager
"Since I started here nearly five years ago, I have learned from every single person I've worked with. From our veterans in the field to our young talent, Switch is a collaborative and well-rounded team. The robust capabilities offered here generate a unique space to ask questions and immerse yourself in a fast-paced environment where no two days are the same. Thanks to my co-workers' willingness to teach, I am grateful to have been recently promoted to my current role of an Associate Video Producer. The team here is one of a kind. I can't wait to see what we create next."

-Heather Rey, Associate Video Producer

---
CONTACT INFORMATION: