Going to Town: Surprise and Delight, Social Currency
and Content Collide at Whatever, USA
It was, it is, it will be—one for the textbooks.
A goal so ambitious it required the creation of an entirely new blueprint to reach an entirely new audience. A strategy so dependent on live experiences it forced the rest of the marketing mix to fall in line behind events. And an idea so big… it took an entire town to bring it to life.
Over the last few years the nation's No. 1-selling beer brand has watched its core customer get older—and, in some cases, reach for the occasional wine or cocktail. In order to develop the Bud Light drinker of tomorrow, the brand needed to refocus on creating a new Bud Light drinker of today. And so in a bold move, the brand reset its sights on a new audience: millennials.
A new audience required a new message. So Bud Light created a new marketing platform, dubbed Up For Whatever. The campaign meshed perfectly with on-the-go, mobile millennials, who are always spontaneous, always active and always "up for whatever." This new Bud Light was, according to the tagline, "the perfect beer for whatever happens."
In an interesting turn of events (literally), an initial Up For Whatever campaign was unveiled during the Super Bowl with a TV spot (via Energy BBDO) curated entirely from a documented evening out with a 27-year-old consumer who thought he was heading to a focus group (for $1,000), but instead found himself out for a wild night that included getting styled by Minka Kelly, defeating Arnold Schwarzenegger in sudden-death Ping-Pong and getting onstage with OneRepublic. The spot introduced a question that Bud Light would ask Millennials for months: Are you #UpForWhatever?
Within seconds of the Super Bowl spot airing, Twitter exploded. Millennials across the country hit the hashtag in unison to let Bud Light know they were indeed up for whatever. Chicago-based experiential marketing agency Mosaic was standing by to turn those social hand raisers into real-time content feeds—by first reverse-engineering their tweets to locate them and then serving up live experiences that could be captured and uploaded to Bud Light's YouTube channel.
A few examples: A consumer who tweeted he was #UpForWhatever as he ordered an Uber pick-up was extracted minutes later… in a yellow Lamborghini. The driver even asked if he was up for whatever as the door opened—nice touch. Another consumer who was watching the game at a bar while posting that she was #UpForWhatever had an entire halftime show, featuring singers, dancers and EDM sensation Krewella, delivered to her—at the bar. The consumer who tweeted that he was #UpForWhatever from his own Super Bowl party had his party crashed minutes later by Hall of Famer Warren Sapp. It was all happening within minutes of the TV spot airing and uploaded to social media as quickly as Mosaic's broadband connection would allow.
Welcome to the next chapter of experiential marketing, where the entire marketing mix—from above-the-line advertising to general marketing platforms to social media engagements—gets all content from live engagements.
In the case of Bud Light's inaugural Up For Whatever unveiling, all content, from the TV spot to the surprise-and-delight social activations, was captured and posted online. And tens of millions of millennials tuned in, across YouTube, Twitter and Instagram. While some brands spend months trying to figure out if a campaign moved the needle, it took Bud Light mere hours to know it was onto something big.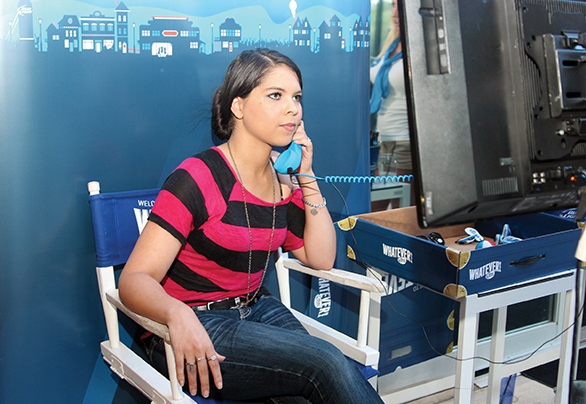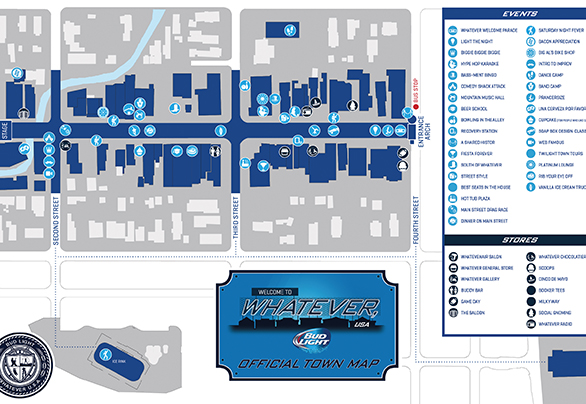 Whatever Happens
The campaign extended into the winter/spring NBA season, with related Up For Whatever ads and viral content captured and posted. Research and market studies found Millennials were responding across both the top and the bottom of the purchase funnel. With the critical summer selling season approaching, Bud Light saw an opportunity to take Up For Whatever to the next level.
In March, the decision was made to embrace a "win or go home" mantra. But to connect with millennials (ages 21-27, split evenly between men and women) during the summer, when every brand was trying to connect with them, Bud Light had to create something that had never been created. The team needed to produce something most would label un-producible. Anything less than the millennial experience of all millennial experiences was unacceptable.
"Only if you push the boundaries will you know how far you can go," says Bud Light vp Alex Lambrecht. "We had the courage to be bold."
What followed was the boldest summer initiative in the brand's history, a summer-long marketing program that would use tens of thousands of live events to connect with millennials, and millennials themselves as the campaign's content source and amplifier. The premise: Bud Light would create an entire town—Whatever, USA—and millennials who wanted to come for a weekend in September would have to prove they were #UpForWhatever all summer long.
"We knew if we pulled this off that it would change the way Bud Light would market itself forever," says Mosaic vp-client services Jennifer Shankman, who ran point on the program.
The location of the town and exact details of the weekend were kept secret. Consumers went crazy for the idea. The buzz started in May. Media, p.r. and digital/social efforts launched with a single message: "Bud Light is turning a real town into Whatever, USA, and you can come." A fictitious mayor of the town starred in all assets. The initial national campaign drove all engagements to UpForWhatever.com. Viral videos were strategically released in stages, building word-of-mouth chatter for the overall campaign, Bud Light and, of course, the town. Since millennials are hyper-digital, media buys were skewed 3:1 towards social and digital over TV placements. And all content was designed and released with social sharing in mind, offering up constant opportunities for comments and viral redirects by millennials.
"Only if you push the boundaries will you know how far you can go," says Bud Light vp Alex Lambrecht. "We had the courage to be bold."
By June, with the marketing machine officially flipped on, it was time to get face-to-face with consumers. Mosaic deployed more than 22,000 Whatever, USA-branded events to bars and nightclubs across the country. The heart of the on-site activation was an audition. Consumers who wanted a shot at Whatever, USA could pick up a (Bud Light blue) phone, which triggered a virtual interview with the mayor.
He'd ask one of 19 random questions—examples included "based on your skills, what kind of world record do you think you could set" or "what would your spirit animal be and why" or "if you could do anything for a living, what would it be and why." Consumers had 10 seconds to answer the question. The entire audition was captured and uploaded as a 15-second video to YouTube and that consumer's social networks—again, content being collected at live events and distributed everywhere else. "Obviously experiential marketing isn't new," says Mosaic president Jeff Stelmach. "But this is certainly a new way to use it."
Self-contained, 100-square-foot pop-up "audition kits" were created for brand ambassador teams. The branded footprints were designed around content capture and social media distribution. Millennials who didn't have easy access to the live events could audition using their personal devices on UpForWhatever.com. One of the "declarations" (release forms) consumers signed: "I [touch here to sign your name] declare that I am Up For Whatever. From this moment forward, I pledge that no matter day or night, by land or by sea, shirts or skins, I'm always down to make my next memory. And whether it's spontaneous, sparkly, bacon-wrapped, a-little-bit-scary-but-a-lot-bit-fun, hysterical, or deep fried, I hereby proclaim to Bud Light, I am officially Up For Whatever."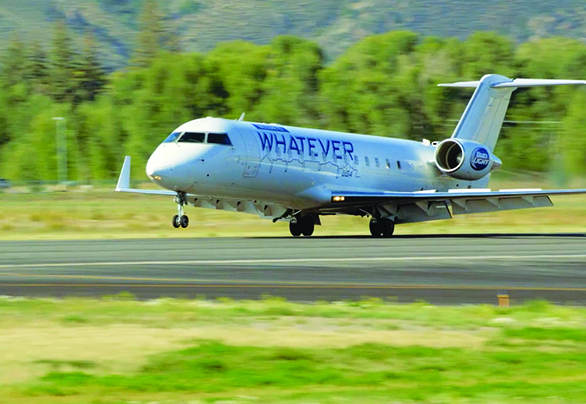 By August, it had become a phenomenon. Millennials chased the brand, begged for access to Whatever, USA and shared more content than anyone had anticipated. More than 200,000 of them actually auditioned to get into Whatever, USA.
On Thursday, Sept. 4, a final Last Call for Whatever event was held at 350 top bars and nightclubs while the Mosaic team contacted, congratulated, validated and booked 500 winners to go to Crested Butte, CO, which had been unveiled as the town that would be transformed into Whatever, USA.
The entire summer, Mosaic teams had been quietly hard at work getting the Colorado town ready for a transformation no brand had ever attempted before. Entire roads would be repaved, entire stores, restaurants and hotels would be given makeovers—flight destinations would be altered. And the logistics involved with getting the town to cooperate? Probably worthy of its own cover story. The permits, the meetings, the liability contracts, the blueprints and schematics—only a Summer Olympics can rival what Mosaic pulled off in Crested Butte. And to be honest, it was tough right until the bitter end: Although Crested Butte was paid $500,000, residents who were kept in the dark had their feathers ruffled, leading to several days of reportedly "tense meetings" between Mosaic and the Crested Butte boards and citizens a week before the event opened. Whatever, USA was eventually approved.
Some winners were notified via "selection day stunts" in which street teams hand-delivered larger-than-life Whatever, USA boarding passes to them while camera crews filmed and then uploaded the vids to YouTube. Each of the 500 winners could bring a friend, assuming they could get to their flights in less than 10 hours—they said they were up for whatever, right?
Game On
And so three months and 22,000 events later, there was just one event left. Whatever, USA opened, serving as a bold finale to the summer program and a beacon to millennials everywhere that the new Bud Light was the perfect beer… for whatever happens next. And remember, the winners were selected based on their personality, passion, social network and influence power. They had large social networks and were predisposed to share—they just needed something to share. Which is why Bud Light didn't create Whatever, USA for the 1,000 attendees—it created it for the rest of the world that would tune into the content those 1,000 people posted. If provided the right experiences, those 1,000 attendees would feed Whatever, USA content to tens of millions of others. "There were bankers, artists and engineers," says Mosaic creative director Khaleed Juma. "It was a beautiful snapshot of the fabric of American society."
From portal to portal, touchpoint to touchpoint, experience to experience, Whatever, USA came to life. Winners were flown to nearby Gunnison, CO, airport in Whatever, USA-branded planes. They used Whatever, USA boarding passes to get on the flights. Even the flight monitors at Denver International Airport were altered for their connections, listing Whatever, USA as an actual FAA destination. When the buses from Gunnison crossed into Crested Butte on Friday Sept. 5, the consumers officially crossed into Whatever, USA.
Bud Light transformed the entire town into a massive brand experience, with a level of detail rarely seen in this industry. The town's famous Elk Avenue historic district was repaved Bud Light blue. All eight blocks of the town's merchants were given Bud Light makeovers—the Mountain Top Tees store became the Whatever General Store, the RM Chocolatier turned into Whatever Chocolates and even the Avalon Salon became the Whateverhair Salon, serving up free stylings. Elk Avenue restaurants were given both menu tweaks and environmental touch-ups, from Bud Light artwork for the walls to design accents that added a little Bud Light to the establishment. (The Mosaic team went door to door, speaking to each owner about custom logos, window façades and other tweaks.)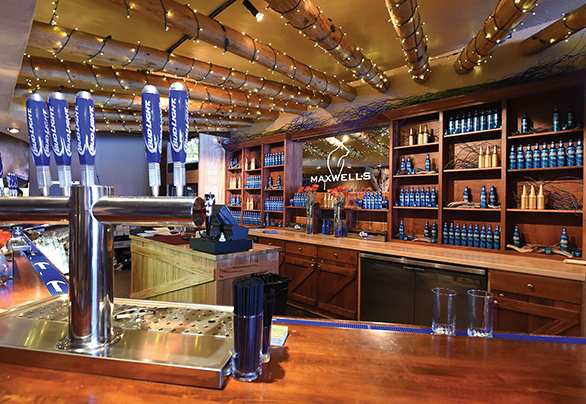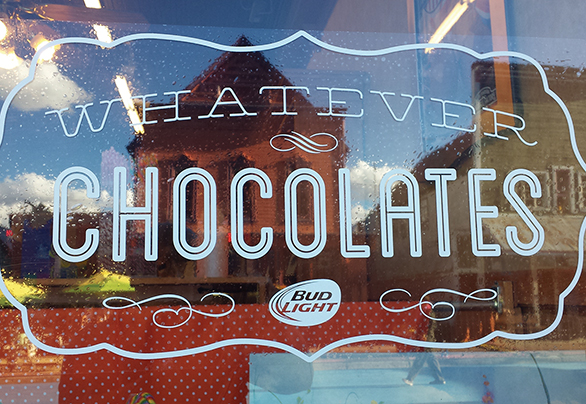 The main street merchant makeovers provided a branded backdrop to an overall schedule that was packed, stacked and designed to be shared. There were more than 80 different events staged from Friday night through Sunday morning's farewell breakfast.
Much like consumers use a remote control to surf television shows at home, Whatever, USA guests used a branded app to stay on top of the busy schedule and choose what activities to engage in. "Most events provide the exact same experience to attendees," says Juma. "We wanted this to be the anti-event. Our goal was to get 1,000 people to tell a million stories. Giving them options and choices let them create their own experience. They were on a constant voyage and never knew what was next."
At all times attendees could choose from multiple simultaneous events. Yoga at 10,000 feet, comedy improv or kanga running? A bacon and Bud Light tasting, band camp or sitting in a Jacuzzi while Questlove DJ'd? "The best part was that they didn't know what the best part was," says Shankman. There were also what Mosaic dubbed "Stumble Upons," unscheduled encounters such as karaoke with Lil Jon and Vanilla Ice serving… vanilla ice cream.
"Millennials value experiences over material goods," says Lambrecht. "They want to be surprised, so the notion of not knowing what was around the corner was key."
And there were other participatory events, from human bowling to soap box derbies to a Friday night EDM concert in which all attendees were outfitted with glowing LED jackets synced to the beats of Alejo—together, the music and the consumers fused, forming the experience. For the Saturday night finale disco party, all attendees were assigned a stylist who helped them select a 70s-style outfit and provided hair and makeup touch-ups—like actors get primped on an ad set, Bud Light was making sure the characters that would star in millions of pieces of viral content looked nothing less than meticulous.
It was all free for attendees. The food in the restaurants. The services in the stores. The activities on the schedule. They could enjoy free unlimited Bud Light (but they could purchase another drink if they so chose). The attendees stayed in hotels that were completely rebranded, from the front desk to the shampoo bottles. They arrived on Friday afternoon and departed Sunday morning. (Key Mosaic partners included travel/logistics support via Fusion Marketing, exhibits/environmental assets via Hargrove, app development via Eventbase and A/V via PRG.)
The entire time, it was all being captured and shared by both Bud Light and the attendees. Video drones could be seen hovering at all hours while camera crews drove around town snapping photos for social media, shooting content for YouTube and filming all of it for national TV spots. To help over-stimulate attendee tendencies to text, post, tweet and hashtag, all guests were outfitted with RFID bands that triggered photos and videos shared immediately to their Facebook feeds, and in a personalized Whatever, USA photo gallery.
"Make no mistake," proclaims Lambrecht. "The event has become a content factory."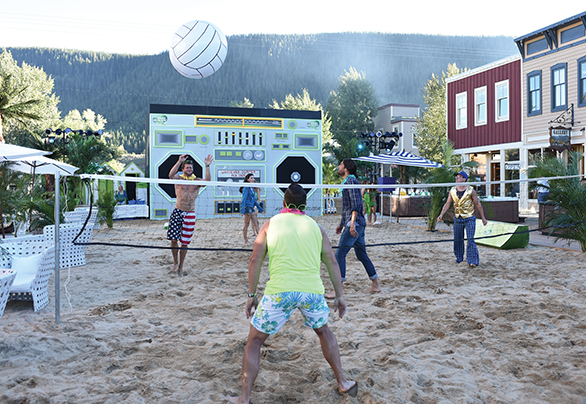 Business Impact
The metrics were eye-popping. More than 1.8 million millennials engaged in the campaign, 1.4 million of them via the on-premise events. The 1,000 attendees at Whatever, USA posted 37,000 pieces of content—"that shows how involved they were," says Lambrecht—that were directly accessed by more than 15 million people on Facebook and Twitter. The Whatever, USA app made for easy, frictionless social sharing, resulting in 2.5 million engagements.
Analytics showed that the Whatever, USA program actually engaged 40 percent more millennials than the #UpForWhatever Super Bowl TV spot, a clear and present sign of the power of experiences over ads (and website traffic to UpForWhatever.com was up 212 percent over the Super Bowl time period). Whatever, USA social impressions/connections topped 587 million, 267 percent over goal. "By equipping people with a story, you make an impact," says Juma. "Real impressions are made in person."
And then there was the sales impact. By the time the program ended, a five-year on-premise sales decline had been cut in half. Four-week usage among millennials jumped 39 percent and brand preference indicators increased 30 percent. All from a campaign that played out over mere months. A campaign with bold ambitions yet a simple premise. A campaign approved by a marketing team that decided to win or go home. And carried out by an agency that refused to quit, sleep or settle for anything less than a win.
Whatever, USA gave us all a glimpse into the future of the marketing mix, where integration will more often than not push what used to be primary marketing channels into supporting roles behind experiences. Where the live event emerges as the leading creator and distributor of content to the rest of the mix. And where cmos realize that the last frontier of uncluttered marketing and authentic engagement with their customers happens… in the medium of live.
"In 10 years, this program will be seen as a milestone for Bud Light," says Lambrecht. "To stay No. 1, you have to reinvent yourself. This was the first step. Moving forward, we will use experiences to reach the masses."
Congratulations to our 2015 Grand Ex Award winners.