It has to be a pretty sweet deal for consumers to step into an event footprint and the first thing they get is the goody bag. No waiting for the party to end to get the favors. Boom! Freebies. But at Good Housekeeping's Spring Fling in Grand Central Terminal's Vanderbilt Hall on April 29, this didn't encourage anyone to skip the event altogether. In fact, it proved to be just the right lure.
By early estimates, at least 10,000 consumers came through to experience this series of activation booths by advertising partners and the Good Housekeeping brand itself. That's up from 7,500 attendees
in 2013, the event's first year. The magazine even increased the goody bag count by 40 percent this year—and still ran out well before the end of the day. (What was inside: coupons, a copy of the magazine, toothbrushes, Mary Kay lipstick, Cetaphil moisturizer and Pantene shampoo and conditioner.)
"It's one of the very few events we do in which a broad range of categories can live together seamlessly, which is enormously important for us as a lifestyle brand. It's very difficult to find marketing programs and partnerships that work for categories as disparate as beauty and household cleaners, for example," says Christine Rannazzisi Gerstein, associate publisher and group marketing director at Good Housekeeping. "By bringing all aspects of the magazine to life, Spring Fling is really a single tent-
pole that allows us to meet the event marketing needs of a broad range of brands."
While the event was more of a quick workday escape than a platform for longer engagement (you could visit all of the stations and still make it back to the office by the end of lunch hour, probably by design), it had a sufficient amount of indulgences to make it worthwhile. (Check out video here.) What we liked:
You could interact directly with magazine staff. The Good Housekeeping Research Institute booth was stocked with reps from the product test lab (the Institute was established in 1900!) including technical director Rachel Rothman. They had a few hot products displayed for consumers to check out including a 3D printer, an electronic stencil machine and a station where you could sign up to be a product tester.
The magazine's food director, Susan Westmoreland, led demonstrations (sponsored by Fig Newtons) on caramel cracker snacks and specialty drinks. As she finished a recipe for a ginger-lime spritzer, audience members nodded in approval as she noted that limes are expensive right now, and suggested oranges or lemons as substitutes—a simple comment that struck an authentic chord.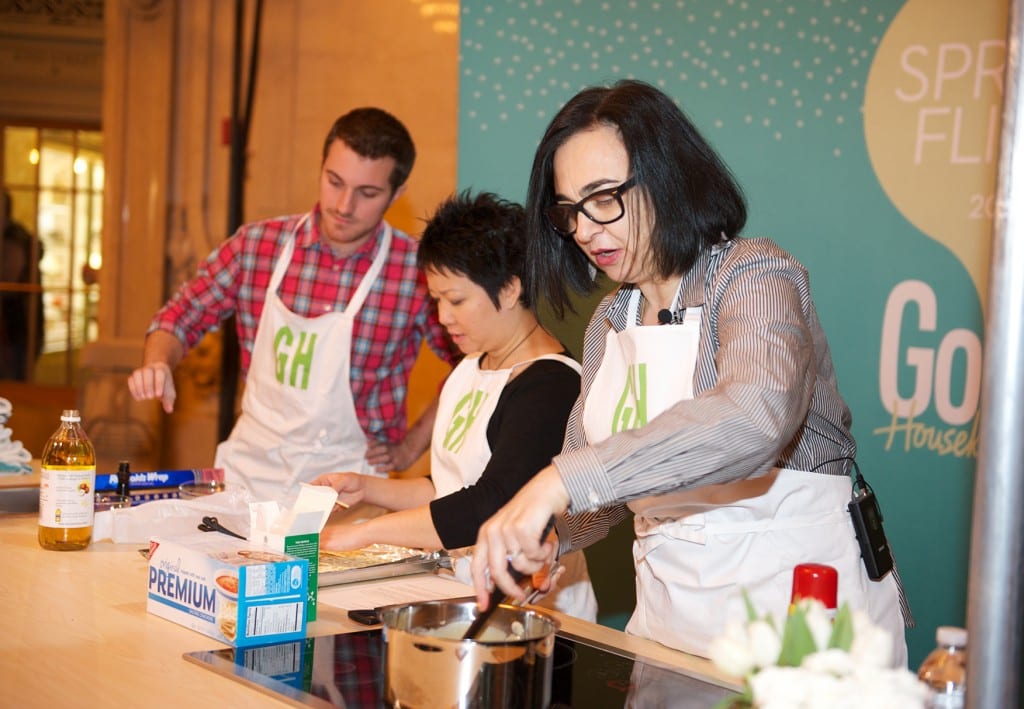 You could get a quickie makeover—then share it. New this year were styling stations where women could get a lipstick consultation by Mary Kay (complete with a free lip shade at the end, but, frankly, they were passing those out freely), and then get a low bun or braid by Pantene. We liked that each beauty station had a small sign with a magazine beauty editor's Twitter handle, so consumers could instantly tweet them photos of their new looks.
You could feel like a (momentary) celeb. Even if you dream of gracing the pages of a magazine, the idea of a photo shoot can seem daunting, if not embarrassing. Good Housekeeping's "real women" casting call was just low-key enough to make it fun. You snapped a quick Polaroid, filled out a short form with your contact information and style description and voilà! A photo activation by Simon Elliot Events took place against a big step and repeat with Good Housekeeping branding. It took three images that were instantly uploaded to three touch screen tables (this helped with traffic flow) for viewing and instant sharing with #GHSpringFling or by email.
You could enter a sweepstakes—in a snap. There were some decent sweepstakes that didn't take a whole lot of effort to engage in, aside from offering your name, address and email. First, there was a Good Housekeeping $500 summer wardrobe upgrade and, at a DIY Station manned by a blogger from DrivenByDecor.com, a Home Depot sweepstakes for a bucket filled with Gain, Swiffer and Bounty products, and $25 store gift card.
All just in time for spring cleaning—with a sweep of free red lipstick, of course.