When it comes to sports sponsorships, most of the attention goes to the biggest spectacles in the business: the Olympics, the World Cup, the Super Bowl and the World Series, to name a few. But along with all of that global attention comes a lot of background noise, perfect for drowning out your brand's messages. Some brands have realized that for way less spend, they can appeal to a more targeted audience and reap some lucrative rewards. So EM's edit team took time out this summer to run, paint, drive, crawl and "go rogue" at some the coolest, least conventional and most popular alternative sports sponsorship platforms out there. Here, we bring you the skinny on the events, and what brands in the know are doing to leverage them.
American Le Mans
When most Americans think of auto racing, they usually think of NASCAR. There is, however, a wide variety of racing styles and platforms in the racing world and one of the local favorites is the American Le Mans circuit. American Le Mans is a racing series created in 1999 based on the 24 hours of Le Mans in France, but with races lasting from two to 12 hours and cars competing in one of five classes. Auto brands like Chrysler and GM know that fervent racing fans come to these events ready to spend hundreds of dollars on race day, and thousands each year on their favorite sport—so why not inspire them to consider spending a little (or a lot) more on one of their sporty vehicles, too? Here's a taste of what the automakers did on Independence Day weekend at Lime Rock Park in Connecticut.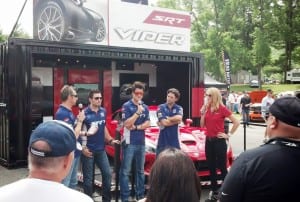 Chrysler Group
It was one of the biggest and most distinctive consumer footprints in the fan zone, and Chrysler knows how to please the people, so it put the coolest cars front and center. Dodge Charger, Challenger and Dart were all in attendance, along with Jeep Grand Cherokee and Fiat 500, all spec'd up to top of the line and perfect for drool value. To get out of the scorching heat, an air-conditioned showroom (really a double-expandable trailer) was the anchor for the footprint, and people gathered inside to ask questions and gather up info about the vehicles outside (Trailer: Craftsmen Industries, St. Louis).
GM and Corvette
This was a special race day in that, in addition to the Le Mans races, it was a 'Vette showdown. So GM pulled out all the stops to show off its racing chops. The workshop for the racing team was visible on pit row, and Corvette let fans get up close and personal to one of the team's cars for photo ops. The brand also rolled out some data collect (one of the few on-site) through a sweepstakes for a 2014 Stingray (Corvette experiences handled by Performance Marketing Group, Noblesville, IN). Elsewhere under GM's umbrella was a plush Cadillac hospitality suite for VIPs and all the Chevy trucks you ever wanted to see… ever (GM handled by Jack Morton Worldwide, New York City).
Rock 'n' Roll Marathon
The themed fun run seems pretty ubiquitous these days, but back in 1998, if you wanted to run, it was serious business. Until the Rock 'n' Roll Marathon series got started in San Diego and the idea of–gasp!–having fun while running was born. It's a simple concept, really. Almost all runners listen to music while they run, so the Rock 'n' Rollers asked themselves why not have a marathon or half-marathon that makes music the focal point by placing local bands on stages along the route and having a headliner rockin' at the finish line. Since that first race broke attendance records for new marathons, the series has grown to more than 30 events each year all over the world, with an average of 30,000 to 40,000 attendees at each one. That's a big crowd, many of whom travel to the race from quite a distance, ready to spend money and eager for experiences. Here's a look at who does what while rockin' out.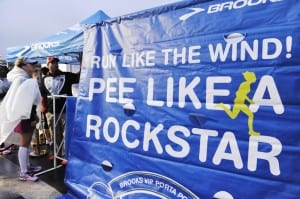 Brooks
Running shoe manufacturer Brooks is the official apparel and merchandise provider for the series, and to bring some service to the attendees of the events, the brand gives customers a chance to potty like a rock star. Yes, it's exactly what it sounds like: a VIP potty for loyal Brooks customers. All the people have to do to get into these uber-fancy throne rooms is spend $100 on Brooks gear in the year before the event, or $150 in the Brooks booth at the fan expo on race day. And, as anyone who got inside would tell you, it was the best seat in the house.
Travelers Insurance
This is the first year as a sponsor for the insurance brand, which signed on for four races. At each one, the brand is deploying a mobile tracking app called Competitor to promote its new IntelliDrive usage-based auto insurance discount program. The product attaches to customers cars and tracks driving; safe drivers get discounts. On race day, the runners sign up and get a tracking device to wear, and their friends and family can download an app to track the runner's pace, location and other telematics data. The trick is, you have to sign up for the service at the brand's expo booth, where the brand ambassadors tell you all about the IntelliDrive product. Nice.
Tough Mudder
If you haven't heard of Tough Mudder yet, you will soon. It's the biggest and fastest-growing property in a segment of endurance race that seeks to demonstrate how tough its competitors are, not how fast they are.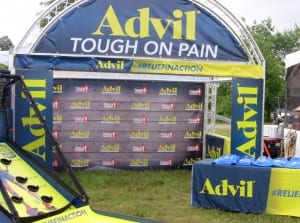 In this case, by slogging through 12.5 miles of mud, obstacles, pain and suffering at dozens of events all over the continent. Thousands take part in each event and only about three-quarters finish, despite repeated warnings about how damn hard the whole thing is going to be. EM went, EM saw and, yes, EM conquered (sort of). Click here for the story.
BIC
Wanna look tough? Shave your head, says Bic. Wanna be tough? Let Bic shave your head, chest, legs or… "whatever" at Tough Mudder and the brand will make a donation to the Wounded Warrior Project, the charity of choice for Tough Mudder, which has donated more than $5 million already to the veteran's organization. Bic is chipping in an additional $100,000 this year as a sponsor, one dollar for every shave it gives, and has committed to donating the whole amount no matter how many Mudders step up to the razor. We've seen this before from Bic, but it works so we say, carry on. Agency: Eventive, New York City.
Advil
This is Advil's first year as a sponsor, and the product is a natural fit (trust us). In the fan zone, the brand invited Mudders and supporters to play some carnival games and grab some bottles of pain reliever, which they needed… desperately. To get more into the game, the brand also sponsored its own obstacle, which had Mudders carry another competitor down a muddy stretch of trail… for a mile. Yeah. Nice one Advil–way to keep your product front of mind. In addition, the brand is leveraging its #reliefinaction program to drive purchases by hashtagging its Mudder-related tweets and making a donation to Wounded Warrior of up to $150,000. Now that's relief. Handled by: Circle One, Norwalk, CT.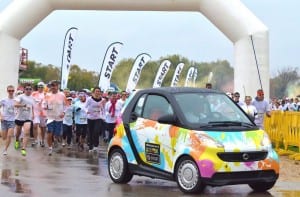 Color Me Rad
Inspired by the Holi Festival of Colors in Salt Lake City, a Hindu tradition that originates in Northern India, two local friends and avid runners in April 2012 launched Color Me Rad, a noncompetitive 5K race where runners of all ages are pegged with bursts of colored, corn starch powder. This particular event (there are a couple others like it) has exploded in one year, more than doubling the number of cities from when it first began. For the 2013-14 circuit, there are approximately 100 races scheduled, including a few in international markets.
smart car
This year, smart car is sponsoring races in 50 markets (each race also has a charitable partner, to which a percentage of race revenue goes), where a splattered, wrapped version of the car serves as the official pace car. In five markets, the brand is activating pumped-up experiences, including: an "unwash" station, where racers are hit at the start of the race with a car wash of extra color pumped from foam blasters, and a photo activation with the smart car at the conclusion of the race. In addition, there are opportunities for racers picking up their badges to test-drive smart cars through local dealerships (Agency: Engine Shop, Montvale, NJ).
"The smart car brand is very unique and quirky. It's one of these brands you really have to see to believe and experience, so get in the car, or be around the car," says Stephanie Zimmer, manager-brand experience marketing at Mercedes-Benz USA. "The racers are young, they're fun, they're quirky, and smart car's the same thing."
In addition, she adds, "There are not a lot of nationally-based programs that have the reach that this program does."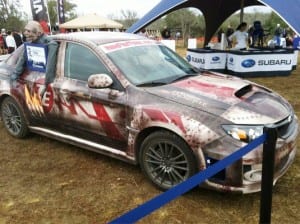 Run For Your Lives
If you've ever fantasized about running from zombies—and who hasn't?—you'll probably become a fan of this relativelynew 5K race. Childhood friends from Maryland started the Run For Your Lives 5K in 2011, which is inspired by AMC's "The Walking Dead." Twenty-one races are scheduled for 2013.
Participants wear a flag-football belt with three flags and attempt to out-run and out wit zombies (volunteers who spend a couple hours in "hair and makeup") along the way. Those who make it to the end with at least one flag are considered "survivors," while those with no flags are "infected." Everyone, however, gets a medal in the end—and a free beer. Spectators come for free and can enjoy an all-day Apocalypse Party in a "Safe Zone" which features a dj, food and merchandise. In addition, charitable partners include Kennedy Krieger Institute and Project Sole.
Subaru
Subaru is sponsoring six events this year across Arizona, Florida, Southern California and Texas, according to race organizer Reed Street Productions. The activations feature a "Subaru Safe Passage" obstacle course, where attendees compete against each other to win prizes. In addition, there is "Subaru VIP parking" at these events, which allows attendees arriving in Subaru vehicles to park for free (Agency: Ansira Engagement Marketing, St. Louis).
Go Skateboarding Day
Go Skateboarding Day is a 10-year-old holiday started by the International Association of Skateboard Companies that encourages retailers, manufacturers, organizations and skateboarders to organize events and traditions to celebrate skateboarding. Nike and Red Bull appear to own this one, but maybe there's room for more?
Nike
On June 21, Nike SB activated a floating skateboard park on a barge on the Hudson River in New York City. The 250-foot barge complete with "Skate Every Damn Day" campaign messaging traveled between Manhattan in Brooklyn. The event kicked off at Flushing Meadows Maloof Park with the Red Bull Best Trick Contest, and then concluded at the Lower East Side's Coleman Oval Park with Nike SB professionals and teams 5Boro NYC and CCS x competing for Nike SB Best Trick contests. Later that evening, the brand hosted a demo by Nike SB athlete Paul Rodriguez, along with other members of the Nike SB pro team (Agency: BeCore, Los Angeles).
Nike promoted its other skateboarding events happening across the globe on the "Skate Every Damn Day" microsite, which included instructions for skaters to contribute to the Go Skateboarding Day live social media feed. EM