LG Electronics USA in September hosted the Art of the Pixel Gala, the kind of event most of us get to experience maybe once a year—which is just the level of expectation the brand wanted to set. The gala launched a new LG TV and it brought together celebrities, press, executives, clients and student-finalists from a digital art competition. (Check out a gallery of photos, here.)
Black tie events are tricky in that every aspect of the evening must be carefully timed and curated. But with the right formula, brands that leverage the strategy can transform an event from "Ugh, I have to rent a tux" to "Worth it! That was the best event of the year."
We tapped Adam Suellentrop, director-product and client services at Barkley Kalpak Agency, which handled the Art of the Pixel Gala for LG, for the low-down on best practices and bow ties. Grab a glass of champagne and read on:
1. Say No To Black Tie Optional.
Today, style rules are meant to be broken and so a black tie dress code doesn't necessarily force guests into a tuxedo. What it does mean, though, is that the event is special; that it will be memorable, and so guests should look (and thus feel) their best. A cluster of tuxedos among a sea of suits and sport coats means one or more parties may feel overdressed or underdressed. And that's not what this sort of night is about. By establishing a "look your best" dress code, everyone is on the same page. For LG, specifically, the dress code was especially important to elevate the atmosphere for the Art of the Pixel finalists and the executive-level guests on this key professional night. LG's invitation featured a whimsical bow tie icon next to the words "black tie" in the final line of print.
2. Offer A Formal Photo Opportunity.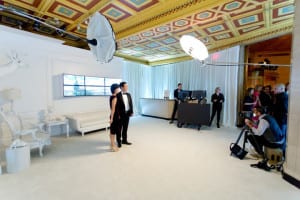 Your guests will have put a lot of effort into their appearance, so it makes sense then to help them capture it. Set up a photo booth and, if you're going the extra mile, staff it with a professional photographer and assistants who'll offer to hold personal items like handbags during the shoot. Use a system that will allow you to digitally or physically send the image to guests after the event, as LG did for Art of the Pixel. No one wants to handle a delicate photograph while they're trying to wine, dine and socialize.
3. Pour Over That Guest List.
If your event involves one large dining space filled with different groups of attendees, you need to carefully curate seating arrangements. Frankly, it's all about the VIPs. Think about where their table is situated, what their view is of the main stage, who's sitting behind them, and be sure these guests have a clear sightline to event producers or catering staff. Consider assigning one catering staffer per VIP table. And, above all, prepare for shuffling, extra seating and special requests.
4. Choose Foods Based on Style.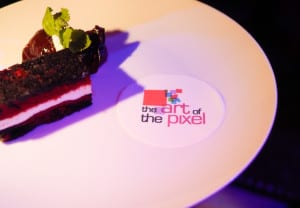 Food, of course, needs to be exquisite. But the menu also should support the theme of the event, "and be executable in the confines of a catered event," as Suellentrop puts it. For LG's gala, the three-course meal offered dishes that were plated with great care. "We picked dishes that looked as compelling as they tasted," he says, such as grilled corvina over spinach-potato risotto, Hen-of-the-woods, piment d'espelette beurre blanc. French just screams "food adventure," doesn't it? (Check out the red velvet cake, at right.) One-bite hors d'oeuvres are best at a black tie event—no mess, no fuss. And keep the wine and water glasses filled for at least the first half of dinner, no flagging-down-staff required.
5. Calibrate The Program Speed.
For a black-tie dinner setting, event planners can't ever underestimate the power of speed. A program that's too fast paced will lose the allure of a fine dining experience where guests have time to enjoy their meals and socialize. But, get off to a slow-start, and it'll be hard to make up the time in the end without rushing. Establish a pace that allows you to stage each dinner course (and powder room breaks) between scheduled content, whether it be speakers or multimedia. Strive to have plates cleared before the next stage of programming, and you'll ultimately finish in style.