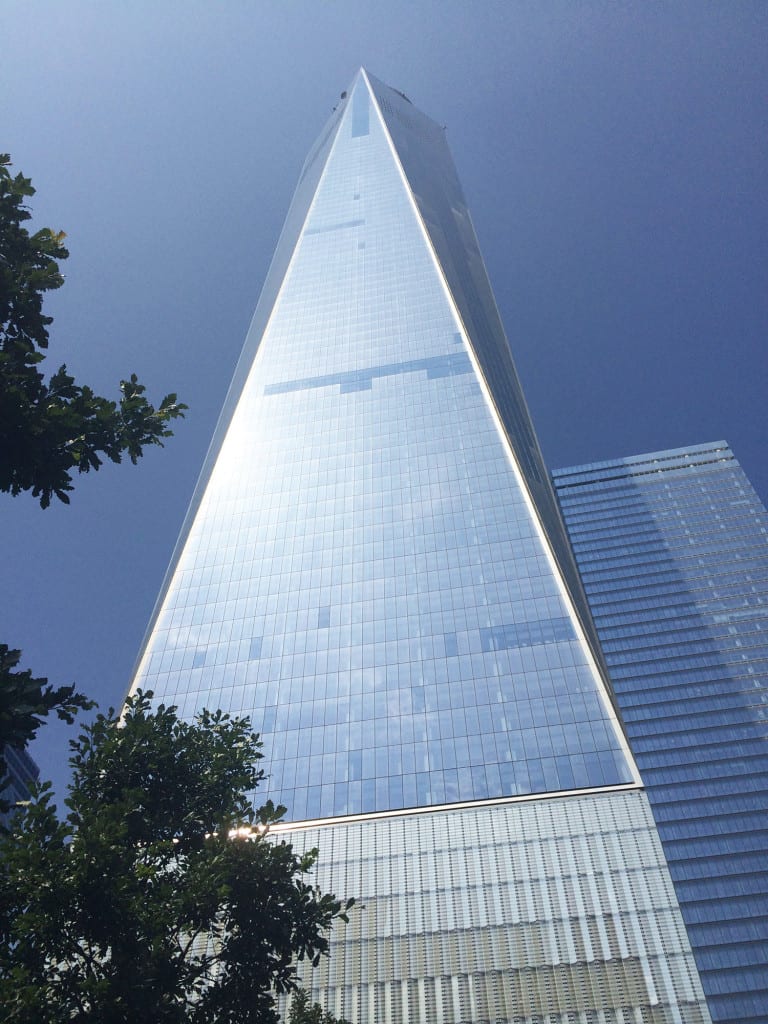 You have to look up at least twice. Standing outside the new One World Trade Center tower in lower Manhattan, this modern marvel (tallest in the Western Hemisphere) appears to rise to the clouds. A symbol of American ingenuity and resiliency in the wake of acts of terrorism nearly 14 years ago, the tower's 100th through 102nd floors have been transformed into a permanent tourist and event attraction.
But it's hardly an observation deck.
The One World Observatory combines architecture, storytelling, emotion, sight, sound and technology into a one-of-a-kind sightseeing experience that starts the moment you step into the tower and ends only when you can tear yourself away from the views. In search of inspiration (and a bit of an adrenaline rush), we paid it a visit to see what ideas event marketers might steal.

1. Personalized Welcome 
After walking through the main entrance and security, you enter a soaring, dimmed Global Welcome Center lined with a floor-to-ceiling LED display map of the world. You hear salutations in different languages and watch as the map marks and highlights hometowns of observatory visitors. Imagine a display panel that not only highlights your attendees' hometowns, but also lets users then pull up a profile of that individual on a touchscreen, read about them, scan their tweets and reach out.
2. Dramatic Transition Spaces
From the welcome center, we entered a tunnel called Voices featuring interviews with the men and women who built the tower. Dozens of small and large framed screens arranged at various levels displayed the videos on one side of the tunnel, while on the other side, there was a mirrored façade. Next was Foundations, a walkway surrounded on all sides by faux bedrock, to represent the foundation on which the tower is built. Projected facts about the foundation appeared and disappeared from different points on the boulders. It was a stark, moody transition from the tunnel chatter.
3. Immersive Storytelling
We boarded one of five "immersive" elevators equipped with floor-to-ceiling LED displays that offer a "virtual time-lapse" recreating the development of New York City's skyline from the 1500s to present day. It took just 46 seconds to reach the observatory. We only wished there were fewer people in the elevator so we could see the full 360-degree view.
Inside the observatory was City Pulse, referred to as an "interactive skyline concierge." These circular rings of HD video monitors located at the North and South points in the observatory are outfitted in gesture-recognition technology. Brand ambassadors pull up information ranging from social media chatter via #SeeForever and other tags about the observatory, New York City events, recommendations, neighborhood information and other tourist attractions, in rotating live presentations.
4. Dramatic Reveal Moments
After the elevator ride was the See Forever Theater. In a tight and quiet space, a staffer chatted briefly with us, offering a few facts and asking about how we were enjoying the experience. She then stepped away and, on varying levels of screens that mimicked a city skyline, a story emerged through video clips, sights and sounds, capturing the essence of New York City. At the end, the entire screen display structure lifted like a curtain, revealing, just a few feet in front of all 30 or so of us, the view. Applause ensued.
5. An Augmented Reality Overlay
For $15, visitors can rent an iPad with an augmented reality app that, when viewing through it, marks and brings to life different landmarks and buildings in the skyline; it also offers virtual helicopter tours and an audio guide by New York writer Jay McInerney. It's worth mentioning, too, the Sky Portal, a 14-foot wide circular lifted footprint in the observatory that, when looking down, shows real-time, high-definition footage of the streets below
GALLERY: Take a Tour of the One World Observatory Experience
This story appeared in the August 2015 issue