Art Basel Miami has grown into the premiere art event in the U.S. since it opened in 2002 as an offshoot of Art Basel, Switzerland. Sure, the galleries are the main attraction for the bevy of international art collectors striking deals and dispensing cash—a lot of cash. But the arrival of Hollywood's elite, sliding Miami into their social calendars (from Dec. 2 to 8, 2013), and the rise of dozens of parallel fairs, parties and festivals as part of what's become Miami Art Week have transformed this city into a land of marketing opportunity.
At more than 75,000 visitors in 2013, Art Basel Miami attendance was up seven percent. Brand presence is thoughtfully showcased at Art Basel. There's no "fan zone" in this haute environment. Brands are folded seamlessly into the scene. While you've got the upscale audience for luxury brands like Swarovski, Audemars Piguet and Ruinart (event sponsors), the week's line-up also attracts a strong showing of young, hip millennials seeking out experiences across passion points they could never have otherwise. Brands at Art Basel leverage collaborations with artists and Miami-based organizations to engage consumers in a creative vision—and that most certainly excludes a sampling activation tent.
Here, we take a closer look at a few Art Basel Miami programs and what marketers can learn about engaging the art crowd—big spenders and wannabes alike.
Harper's BAZAAR
Harper's BAZAAR found a sweet, chic spot for its debut at Art Basel Miami 2012, where it promoted the launch of its e-commerce platform ShopBAZAAR. For Art Basel Miami 2013, the brand returned with a pop-up, but chose a different location from the midtown Miami Design District, one closer to the epicenter of Art Basel action.
"We focused on downtown and Miami Beach and partnered with SoHo Beach House so that we didn't have to build-out a raw space," says Wendy Lauria, executive director, brand development and integrated marketing, at Harper's BAZAAR. "We could use a beautiful existing space and have access to a built-in audience."
The brand set up a boutique shop in the venue's library and dining rooms and filled it with advertising sponsors—luxury fashion and beauty brands, many exclusive or not found in Miami, to attract savvy shoppers. Consumers shopped alongside the magazine's editors, who curated the inventory and pushed out content on social media; had their makeup touched up at a Givenchy beauty bar or a complementary blowout from Moroccan Oil. At a fragrance bar, Acqua di Parma promoted its new scent, while Gevalia served coffee and tea. Brand ambassadors carried Samsung's newest Galaxy Tab 10.1 tablet (Samsung was a SoHo House technology partner) to give consumers a taste of the ShopBAZAAR platform by allowing them to shop for items outside the space.
Harper's BAZAAR adjusted its schedule this year, activating midweek (Tuesday, Wednesday, Thursday), rather than the first weekend. The fair officially opened Wednesday.
"We were able to have a more exclusive VIP moment on Tuesday when the real art buyers are arriving in Miami and before the enormous crowds came in," Lauria says. One such event: a buzz-generating party dotted with celebrities marking the partnership between MCM bags and illustrators Craig & Karl.
SpongeBob SquarePants
Nickelodeon capitalized on the young, indie-inclined adult audience at Art Basel, collaborating with artist L'Amour Supreme on a live painting installation at Basel Castle, a mini festival with interactive exhibitions and stage performances. It attracted some 5,000 attendees this year at Grand Central Park. Nickelodeon was the first kid's entertainment brand to activate there.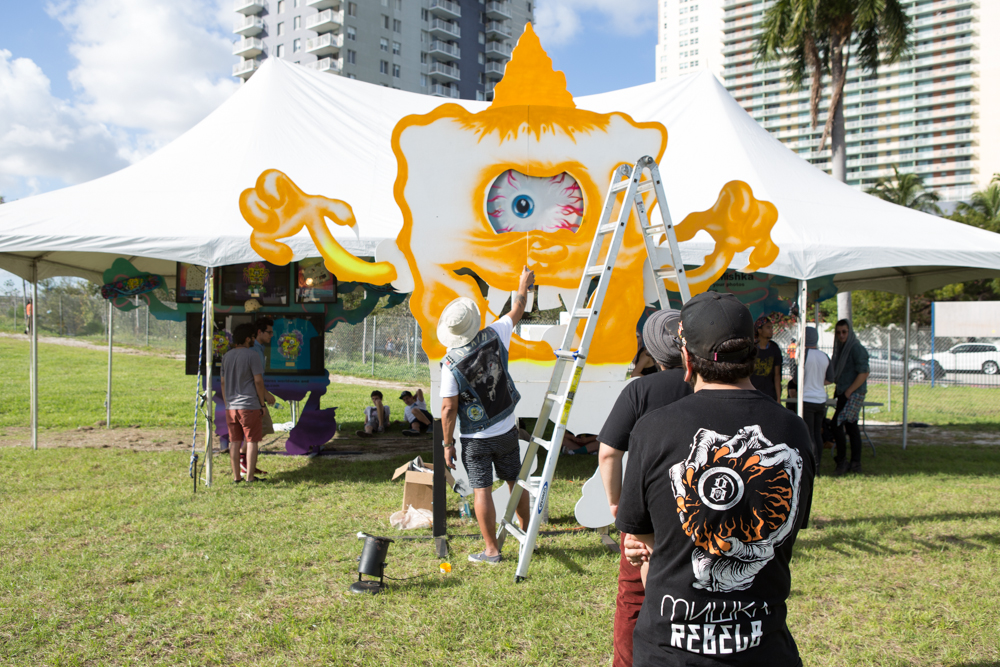 For Nickelodeon's booth, L'Amour painted an eight-foot, 3D moveable SpongeBob structure over the course of the 12-hour event. The activation served as a platform for Nickelodeon to promote a SpongeBob SquarePants collaboration with L'Amour and retailer Mishka NYC on an adult apparel collection—including t-shirts, a bucket hat and wallet—on display in the booth. Consumers visiting the booth could post photos to Instagram tagged with #SpongeBobMishka and print them at an Instaprint station to keep or post to display walls.
To generate buzz for its presence, Nickelodeon partnered with Karmaloop on a sweepstakes and giveaways, including the Mishka and L'Amour-designed skateboard decks. "Basel Castle is very much where music, art, fashion, everything all comes together; it was the audience we were really going after—these influencers and tastemakers," says Andrea Fasulo, svp-retail and movie marketing at Nickelodeon.
"We had this fantastic capsule of products that have all of the fun essence of SpongeBob, but with L'Amour's artistic vision. It was a surprise for the attendees, which is what we loved about it."
Heineken Light
Heineken Light took a hyper-local approach and teamed up with the Miami Light Project, a nonprofit arts organization that focuses its support on up-and-coming artists, to give five Miami-based artists a platform to promote themselves through the competition "Shifting Perspectives," as part of the brand's Light Your Night program line-up. Each artist received wall space at the Miami Light Project's The Light Box at Goldman Warehouse to interpret the Heineken Light "Bounce" campaign.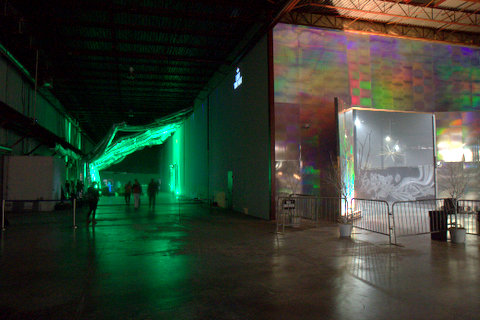 During a special event that night, judges spoke to each artist and watched the audience interact with the pieces. The winner won a trip to Amsterdam. For two nights, the brand enlisted the group Tecné Collective, based in Miami and Spain, on a "Light Flow" exhibition at Mana Wynwood, a music festival during Art Basel. On one large wall, the artists created an interactive piece that, through video projection mapping and kinetic motion, allowed audiences to interact with and guide the display.
"In the past we've had a mural program at Art Basel which was very successful, and we were looking for a way to evolve that and bring that to the next level, so digital light was really a natural evolution," says Leanne Maciel, manager-Heineken sponsorships and activations. "It's cutting edge, there's a technology element to it, which really aligns with the brand and for Heineken Light. And it's about encouraging consumers to view the world a little bit differently."
For a grand finale, the brand took over a façade of Grand Central in Miami, a music venue it sponsored across from Basel Castle, for a video-mapped projection show. Runners dressed in LED lights promoted the programs, while pedicabs offered free rides (Agency: Geometry Global, Miami).
Absolut Art Basel
Associate Sponsor Absolut provided just the right venue for consumers to socialize, take in artists' talks, and of course, end the day with dancing and cocktails. Its Art Bar served as one big art installation created by artist Ry Rocklen who programmed not only the design of the space, but the content as well, from the talks to the music. "Night Court" was inspired by Rocklen's "Trophy Modern" collection (based on the idea that everyone is a winner) and featured a bar, bleachers, Ping-Pong table and chess table, all made from his signature trophy parts, and all posed on a life-sized basketball court at Oceanfront, Miami Beach.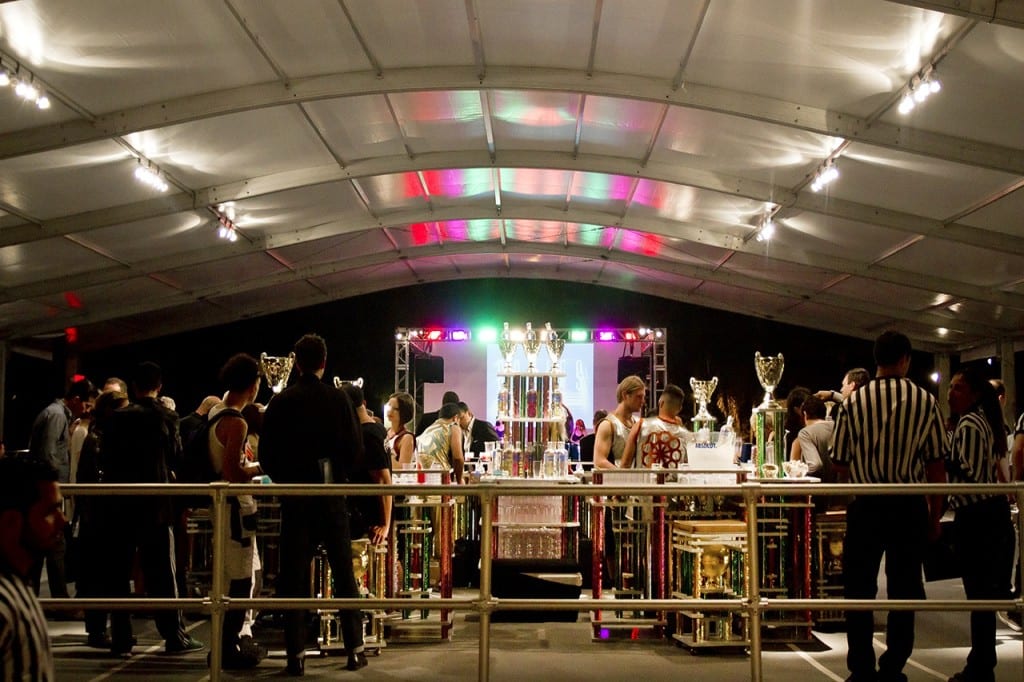 Among the events at "Night Court" was a performance by Bodies International, an artistic aerobics performance group whose members taught guests a few dancercise moves. There were dj sets, an afternoon Absolut Bloody Mary Bar, featuring recipes developed by a team of local mixologists from PB Steak and Swine, and an Absolut X signature brand event featuring a performance by Ariel Pink, known for using his body parts to make beats and for his abstract artwork.
"When it comes to the collaboration with Art Basel and general artistic collaborations, you need to have a unique idea that is still relevant to your product," says Ulrika Lövdahl, global art manager-Absolut. "People came and enjoyed a beautiful art piece, but also had fun having cocktails, listening to music, dancing, socializing, which is needed after a long day at the fair—that is the kind of component to a program we have identified as being something we're good at."
An experiential marketing masterpiece? We think so.
This story appeared in the Feb/March 2014 issue