Okay, I may not have had the most glamorous "embedded" job this summer. Manning the welcome desk as a brand ambassador at one of Merrell's Down and Dirty Obstacle Races doesn't quite rank up there with going undercover at Burning Man (Hi, Ken!) or hanging with the happy people in P-Town (Right, Rachel?), but it was a pretty darned important one.
I got to help people fill out the enter-to-win forms for a chance to win $110 in Merrell money, which the winner can spend on merrell.com. But even more important, the contest generates names that Merrell can add to its email marketing and possibly the catalog mailing list. Data collection is the name of the game these days, and I was right there on the front lines of it as the face of Merrell for a few hours, which meant I had to smile and act friendly, too.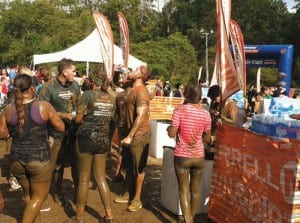 I had a capable teacher in Scot Haslett, the enthusiastic and energetic activations manager for Moderne Communications, the agency executing Merrell's activation on the tour. Haslett arrived on the scene the day before for unloading and setting up, and had been on the job hours before I arrived for duty at 8 a.m. He introduced me to key people like Lauren Heindl, event coordinator at Merrell, Jack Knight, volunteer and "morale officer" at Operation Gratitude, a non-profit that sends care packages to overseas military and is the beneficiary of the race's proceeds. And Nick Ferrara, the emcee with the mellifluous voice who keeps the crowds energized and engaged at every stop on the race tour.
The event I attended took place in New York City's beautiful Pelham Bay Park at Orchard Beach, a public beach in the borough of the Bronx. It was a warm, sunny, September morning as carloads of athletes arrived with their bags of gear. Plenty of onlookers, moms with strollers, kids, even grandmas and grandpas came out to cheer them on. The course took the racers down the boardwalk, with the Atlantic Ocean by their side, through the woods and over walking bridges. It's not a race for the faint of heart. Participants climbed, leaped, crawled, slipped, slogged, darted, dashed over some 20-plus challenges. Some even ran the course with bricks in their backpacks. And then there was the mud pit, but from the exuberant looks of the people I saw crossing the finish line, they didn't seem to mind that part at all. (I'm just glad I didn't have laundry duty!)
Merrell's activation was busy all day and kept me hoppin', answering questions and looking official in my cobalt blue Merrell shirt and cool shoes. I answered all kinds of questions ("Yes, we will contact you if you win," "No, I don't know where the pull-up contest takes place," "Registration is thataway.") But the real attraction in our area was the Zorb course that stood not far from my counter. People switched out their shoes for soft-soled Merrells that they wore as they tumbled inside gigantic inflatable clear balls rolling around on the ground. The mud-splattered racers had their picture taken in the photo area. And several people bought new shoes. Merrell's area was busy and active until the event wound down at around 2 p.m.
I enjoyed my day with Haslett, Heindl and crew, and learned a few things. First, how readily people give up their private information (name, address, phone number and email) for a chance to win something. That being a brand ambassador is fun but demanding work. And how much everyone behind the scenes genuinely loves the Merrell brand. I must have performed my duties impeccably as Haslett invited me (kidding, of course!) to help out again at the next race in Atlanta. I won't be able to do that, but I admit, the idea of getting down and dirty in the mud next year… definitely maybe.
From the October issue