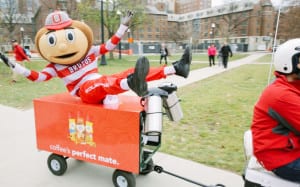 Nestlé's Coffee-mate brand turned sampling into the ultimate finals week survival resource on the campus of Ohio State University with a 20-foot high coffee cup installation and activations designed to help students recharge. Located in the South Oval, the activation offered massages, games, music and charging stations as well as copious amounts of free coffee—that ambassadors delivered on red scooters, too.
The event took place Dec. 7-13, serving up activities for 12 hours nearly every day. Aside from the coffee cup installation that served as a "beacon" to the activation, two sampling tents staffed by baristas served up 18 Coffee-mate flavor samples selected by OSU food services, including the newest seasonal offerings. From there, students could develop their own shareable flavor profiles and take a quick selfie, posting to social media with #coffeelife and #coffeemateatosu in order to take home premiums including branded travel coffee mugs, sunglasses and product.
But if students couldn't make it to the station, they could also tweet or text for deliveries. A delivery team responded to all tweet and text requests using scooters with tow-behind sampling stations to meet students (one delivery was even made to the local infirmary). Coffee-mate captured the footage as well as GoPro video and selfies from the scooters to post as content to its channels.
To manage the program, the brand enlisted 10 of its student ambassadors (Coffee-mate has a partnership with OSU) that it works with on promotions, as well as 12 student representatives and a core group of professional brand ambassadors to fill in the scheduling gaps. Ultimately, Coffee-mate went through 1,595 gallons of coffee, which is 45,369 cups of coffee over the eight-day activation.
"Our goal was to build awareness around the Coffee-mate brand in a really relevant way for this age group, recognizing that college traditionally is a coffee-heavy time for students, but also, we wanted to give them these memorable surprise-and-delight experiences that built-up social media engagement," says Lauren Parker, experiential marketing manager for Coffee-mate at Nestlé USA. Agency: Fluent, Boston.
Video: Check out time-lapse footage of the activation build