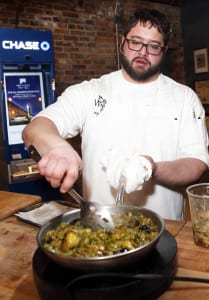 To engage cardholders in perks and exclusive access at the Sundance Film Festival, while giving prospective cardholders a taste of what the card and brand has to offer, Chase Sapphire Preferred, a presenting sponsor, activated Chase Sapphire on Main in Park City, Utah, Jan. 22 to Feb. 1.
Inside the venue, the brand hosted panel discussions with film talent. There was an Oculus Rift activation in partnership with the Sundance Institute and its New Frontier program that celebrated technology and film. In it, attendees viewed footage from a new VR-based documentary "Zero Point." Through a partnership with Bill White Restaurant Group, Chase offered samples and cooking demonstrations featuring different chefs from the area in a program called A Taste of Park City.
The venue also served as a home base for cardmembers who took advantage of the card's weeklong and weekend travel packages to Sundance. Through these packages, Chase cardmembers had access to opening night screenings, private cast parties and VIP experiences. At the Chase Sapphire Priority Box Office, cardmembers could get access to tickets that typically sell out fast. And in partnership with Bon Appétit, cardmembers could use a dining concierge service for reservations at restaurants typically booked solid during the festival.
"We select our marketing partners and create experiences that are designed to reward our cardmembers for doing what they love," says Jeff Bedard, business director at Chase Sapphire. "We feel like the Sundance Film Festival with its focus on cutting-edge film and independent film, really creates such a unique experience for any of our cardmembers who want to participate. And it lets the world know about those cardmember benefits that we provide, both on-site and then through partnerships that get the word out even further." Agencies: Brilliant Consulting Group, Los Angeles; Intersport, Chicago.