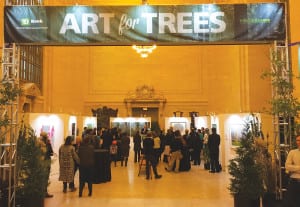 To show its commitment to the environment, TD Bank in October created pop-up art galleries at three New York City landmarks and turned the majority of its storefronts across the city into mini art galleries featuring tree-themed artwork.
The bank commissioned 10 New York City-affiliated artists to create the paintings, photographs and a sculpture for the displays and charitable sale, which were shown at a pop-up at Grand Central Terminal (Oct. 6 to 12), and will be featured at pop-ups on the High Line (Oct. 24) and a Bette Midler-hosted Hulaween Gala (Oct. 31) at the Waldorf Astoria hotel. Proceeds from the sale of the artwork will support Midler's environmental organization MillionTreesNYC. The art pieces have been reprinted on recyclable, compostable vinyl and inks for display in 115 TD Bank New York City storefronts, and free poster reproductions will be distributed at the banks and via Twitter at @TDBank_US. After the campaign, unbranded, large-format full-size reproductions of each piece will be donated to 10 New York City schools, hospitals or community centers.
The campaign also includes a gallery website, tdforestsnyc.com, Twitter and Facebook posts and banner ads.
"The Art for Trees campaign is really not comparable to a brand advertising campaign and has a different purpose. It supports, and demonstrates, our commitment to the environment, and it is an investment in our communities to build awareness of the importance of protecting our green spaces," says Vinoo Vijay, chief marketing officer at TD Bank. Agency: Tierney, Philadelphia.