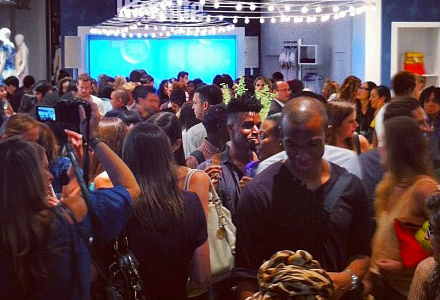 Detergent brand Woolite this September executed its first-ever Fashion Week activation with a pop-up shop in New York City's SoHo neighborhood. The WooliteWashed Boutique kicked off its 11-day run on Sept. 5 with a press event, and then opened to the public on Sept. 6 with a consumer event that coincided with Fashion's Night Out and featured celebrity host Cat Deeley and style expert Jacqui Stafford.
The Boutique featured limited-edition garments and accessories by five designers—Dannijo, Felix Rey, LNA, Laundry by Shelli Segal and Timo Weiland—all pre-washed in Woolite to give consumers a first-hand experience with the product's benefits. Consumers could purchase the fashions on-site. One hundred percent of the proceeds were donated to Save the Children.
"We wanted to create a place where people can actually see what we're trying to sell them," Christian Ortiz, brand manager for Woolite U.S. at Reckitt Benckiser, told Buzz. "You're going to smell detergent. You're going to see what type of clothes you can wash with Woolite. And you're also going to feel how the clothes you wash with Woolite feel like."
Each item in the Boutique featured a retail price tag with messages and branding that reinforced the campaign's slogan, "WooliteWashed. Clothes look like new, longer." The tag concept will be carried over to a print media campaign with ad buys in Shape, Fitness, InStyle, Glamour, People and Lucky, and will also include a social media component featuring Facebook apps, blogs and digital advertising. A TV campaign will launch in February. Agency: Euro RSCG 4D Impact, Chicago.