The Ford College Ambassador Challenge, which wrapped in November and is in the voting phase to determine the winning team, this year saw a big uptick in applications from students who wanted to participate. Why? The chance to snag $500 and a trip to Ford's Dearborn, MI, headquarters for a networking session with Ford executives is always a big enticement to enter the program, which is now in its fourth year. But a new partnership with Zipcar, the on-demand rental service, and updates to the challenges with Instagram and Snapchat ensure that the program reflects this year's crop of students' interests and needs.
"We consciously decided to shift the challenges based on how the students interact in the real world, to properly reflect how they live their lives," says Amy Green, marketing development specialist at Ford.
Teams of four students from eight schools throughout the fall competed against each other in three challenges that tested their creativity, marketing and social engagement skills, which is pretty much how the program has run in the past. However, the addition of Zipcar and the social media changes impacted the Ford College Ambassador Challenge in a big way. Here's how:
In their first challenge, each team created a 15-second introductory Instagram video depicting the lifestyle of a college student on a typical day. The second challenge, a "Social Scavenger Search," incorporated Snapchat in a competition to capture photos with the car then share them over social media. "Taking advantage of Instagram and Snapchat keeps it relevant and makes the challenges look like fun to participate in," Green says.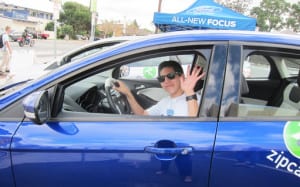 Bringing Zipcar into the program gave the students the option to switch out whichever Ford model they needed to best complete their challenges, giving them a "more customized experience," Green explains. "We wanted to give them more flexibility in the types of cars they could drive."
In the third challenge, "Drive for a Difference," the teams pair up with Zipcar to organize and promote an on-campus test drive event for charity. Ford donated $20 for each test drive, and every team maximized the donation.
Since Zipcar is already on a number of college campuses, it was a ready-made partnership. "Zipcar and its 'Wheels When You Want Them' marketing platform was able to connect with the students' on-demand lifestyle," Green says. "It's always good when both sides of a partnership can benefit." Agency: Iced Media, New York City
Related links:
• Essence College Ambassador Search Creates On-Campus Buzz
• Delta Re-Writes the Book on College Partnerships
• How Experience-Driven Digital Content Amps up Ford's College Program