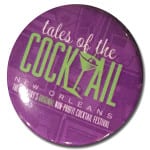 If you need proof that cocktails are serious business these days, look no further than Tales of the Cocktail (TOTC), the annual international spirits festival that, since its inception in 2002, has grown to attract more than 15,000 attendees from around the world. With its signature mix of industry activations, mixology seminars, competitions and networking events, it's become ground zero for a new breed of culinary influencers who, much like their counterparts in craft beer, are primed for growth—and engagement. We traveled to New Orleans this July to see how five of the world's biggest spirits brands (and a small group of enterprising Italian ones) made a splash with the master mixologists in attendance—and those in search of the perfect drink.
Smirnoff Cock'n Bull Pop-up Restaurant
Tales of the Cocktail 2016 was dubbed "The Year of the Mule" in celebration of the 75th anniversary of the iconic (and now ubiquitous) Moscow Mule cocktail. For Smirnoff vodka—the brand credited with the invention of the Moscow Mule in 1941—this timely occasion provided a unique opportunity to share the story that only it could tell.
Wonderland Agency brought that story to life through three seatings at an immersive theatrical dining experience, marketing it as one of the popular "Spirited Dinners" taking place around New Orleans. While other Spirited Dinners were open to the public (for a ticket price), this experience was complimentary and invitation-only for key media and influencers, making it an even hotter ticket on a hot Southern night of hot tickets (did we mention New Orleans is hot in July?).
As guests stepped through the door of Little Gem Saloon in New Orleans'  Central Business District, they were transported back in time to the Cock'n Bull—the bar where the Moscow Mule was invented on Hollywood's Sunset Strip in 1941, only they didn't know that… yet.
"People think they're just coming to dinner," says Ryan Jordan, Wonderland creative director. "But then they get a fun surprise experience about the invention of the Moscow Mule."
Guests experienced their first brand touchpoint in the courtyard entryway where they were offered an authentic, original-recipe Moscow Mule with Smirnoff vodka and Cock'n Bull brand ginger beer, or, a Moscow Mule "Pop" with a fruity frozen vodka pop mixer, both served in a souvenir copper mug. The "cast" of the show invoked the era in full costume among decorated sets, playing the working roles of bartenders, wait staff, the host and a few socially dramatic mystery guests interacting with the crowd.
After about 15 minutes, the group of roughly 40 guests was led upstairs into the main restaurant, featuring a stage with a live pianist and singer, two large communal tables decorated with vintage cameras and antique candelabras, and what would become the main focal point: the bar itself. Vintage newspapers, mid-century furniture and a wall of vintage Smirnoff advertisements added to the ambience, along with a 12-foot by eight-foot sign crafted by a local typography artist.
In between three courses of New Orleans-inspired small bites (fried oyster shooters and chicken n' waffles were favorites), guests learned the origins of the Moscow Mule through full theatrical scenes playing out in the bar.
An estimated 120 key influencers in all went through the experience, generating posts with the #TheOriginalMule hashtag, and marking the first time a brand has used experiential theater at TOTC.
The El Silencio Suite
Tasting rooms are one of the most popular perks for TOTC attendees who have passed the $150 ticket purchase minimum to earn an official wristband, granting the wearer free access to all of the experiences on offer.
Most tasting rooms get straight to boozy business, showcasing featured spirits with impressive cocktails and brand presentations. But mezcal brand El Silencio went a different direction by creating an immersive (and slightly naughty) experience to translate the flavor and feel of the brand in its tasting room located in a large rooftop suite atop the Hotel Monteleone—the epicenter of Tales.
"We wanted to make something that would create conversation in a group full of tough critics who have seen a million events," says Taryn Olsen, events director at El Silencio. For two full days from 11 a.m. to 4 p.m., the team delivered what Olsen describes as "the largest activation that Silencio has taken on to date—from the scale of the build to the number of people engaged."
To get there, one first had to walk past the loud, beach-ball bopping partiers in the rooftop pool, and ascend the stairs into the cool, dimly lit entrance to the lair of the suite, which provided immediate refuge from the mayhem and the sweltering Big Easy heat.
Guests arrived via a long, narrow brick hallway and were greeted by a feather and fishnet-garbed New Orleans Storyville-era showgirl perched atop a barrel, where most stopped to grab a photo. After brand ambassadors captured attendees' personal data on an iPad, they instructed them to knock on the main door and share the password, which was simply, "Shhhhhh" (a play on the brand's #SharetheSilence tagline and hashtag).
From there guests were greeted by the "Madame"—in full drag—who offered a numbered wooden coin for their turn to receive a chair massage, and invited them to "get an oral pleasure" at the bar. Blending inspiration from the dark edginess of the brand's black mezcal Espadin bottle and New Orleans' turn of the century red light district, what had once been a conference room was now transformed into a dark, cool (literally and figuratively) den with a sinful edginess brought to life through red mood lighting, vintage furniture, fixtures and décor, and plenty of pillows.
On the far end of the suite was a "Peep Show" with four framed peepholes, revealing vintage black and white footage of tasteful and titillating strip teases. While waiting for their number to come up on a red digital display indicating their turn at a massage, guests could enjoy an El Silencio mezcal signature cocktail, and "Share the Silence" (i.e., chill) with other guests and brand ambassadors in the suite.
When their number did come up, four people were lined up, each with their own showgirl handing them a knot on the length of one long rope, then handcuffed and blindfolded. The group was led, slowly and gently, around another corner and into their own massage chairs, where they enjoyed a 10-minute massage, fully blindfolded.
Over the course of two days, the activation saw between 900 and 1,000 bartenders, ambassadors and industry influencers. Olsen says her team was "thrilled with the result and we got such amazing feedback from all of the attendees and the Tales staff, some of whom said it was one of the best things they'd seen at Tales—ever."
The brand's next activation is at the Outside Lands Music & Art Festival in San Francisco, where it'll be building out a one-of-a-kind bar and street art installation created by artist Aaron de la Cruz. (Check out the Facebook Live video of the El Silencio Suite at: bit.ly/el-silencio-totc)
Hendrick's Airport Lounge
Hendrick's gin global brand ambassadors are no strangers to TOTC. A dozen or so team members from around the world attend each year to not only support the brand's deep ties with the event, but to also learn and network. When planning their activation for 2016, the team took a step back to ask: "What do people want at Tales? What's something that they aren't getting?" According to Duncan McRae, global brand ambassador for Hendrick's, it quickly became clear that after a week of dazzling events, "exiting was a pretty unglamorous affair."
So the team developed the first-ever Hendrick's Air Departures Lounge, a pop-up VIP lounge available by reservation to any TOTC attendee with a wristband.
Reservations were made at a pop-up reservations kiosk in the lobby of the Hotel Monteleone during a four-hour window on Saturday. Ambassadors in hip pastel uniforms milled politely about the lobby (some on penny-farthing bicycles), distributing branded "regurgitation receptacles" (air sickness bags) while inviting attendees to step up to the counter. Once there, ambassadors issued a branded boarding pass for the Departures Lounge, building in an hour's time for the bearer to relax and unwind before hopping on their free shuttle ride to Louis Armstrong International Airport.
Only those with boarding passes were invited to the pop-up lounge, located in the Salon at Sucre's upstairs restaurant space around the corner from the Hotel Monteleone. Upon entry, they checked in their bags with the "front desk" and ascended the stairs to a breezy, cucumber and rose petal-inspired lounge, greeted with fresh cucumber-water towels (of course) and the gentle sounds of modern Calypso cocktail music.
Once in the lounge, the disarmingly polite ambassador team and hired performers were there to guide guests through an array of unusually calming experiences including a seated chair massage and Hendrick's-branded board games. The balcony beach chair experience was a standout, with a bucket of sand in which to place aching feet, and handsome cabana boys waving palm fronds to provide a cool breeze. Guests were also approached by a tall postman with branded Hendrick's postcards, offering to mail them to loved ones for humble-bragging (about two-thirds were sent internationally).
But where were the drinks, you ask? Everywhere, in subtle and refreshing ways, whether at the bar, on passed trays, or offered with a "Can I get you something to drink while you wait?"
The restaurant's two see-through cases of cooling racks for baked goods were emptied out and transformed into solitary quiet spaces. One room had a chair, an eye mask and noise-canceling headphones connected to an iPad with an eight-minute Buddhify app meditation guiding the listener to believe that "this is the best use of your time right now." And inside that little tranquil space, there was no doubt about it.
The other room hosted a seven-minute multisensory virtual reality experience. While a narrator guided the viewer to tap into their imagination and senses in a dream-like state through the headphones and VR glasses, a brand ambassador played a second, real-world part: at certain points during the film, they sprayed scents of rose and cucumber (the gin's signature essences) in an atomizer, gently fanning the guest and handing them a perfect gin cocktail at the finale, bridging dream state and reality. It was pretty remarkable, and something they are going to build future events around.
In the larger back room, two shoeshine stands were brought in for the hired theatrical shoeshine girls to perform this tactical service. After enjoying a tray-passed crustless cucumber sandwich (or perhaps a delectable French macaroon or a cured salmon and caviar toast… or two) guests were invited to select a couple of gifts from the lounge before departure. The gifts ranged from branded items (hand-held fans, sets of teacups and handkerchiefs) to local souvenirs (voodoo dolls and Mardi Gras mask magnets).
While #HendricksAir was the hashtag, the brand didn't push it too hard. McRae says that over-promotion on social for a private experience can be alienating for those that aren't there, comparable to "being outside the window at Christmas, looking in."
"The value is in building a large experience for a small amount of people," he says.
The lounge successfully ushered 200 TOTC attendees to the airport feeling as breezy and refreshed as the experience itself. The team is currently editing a Wes Anderson-inspired short film of the experience, which will be available online.
Patrón Ride the Rails Virtual Reality Experience
Vintage rail cars from the golden age of train travel were the private jets of their time for those who could afford it. Only a few of them exist today and the meticulously refurbished Patrón Tequila Express was one of them. Saved from a junkyard in the 1980s, the 1927 rail car was restored by John Paul DeJoria, founder of Patrón, and is one of 175 private rail cars approved to travel on Amtrak's rail network.
At an invitation-only event, guests were invited to tour the rail car, cool off with some classic Patrón tequila cocktails and enjoy some grilled oysters and ceviche. When they were ready, they could also "travel" to the Hacienda Patrón distillery in the Highlands of Jalisco, Mexico, via the Art of Patrón Virtual Reality Experience, powered by Oculus VR technology.
With a goal to entertain and catch up with the craft cocktail community at Tales, the rail car's three luxurious staterooms, dining room and gourmet kitchen provided an ideal space for intimate conversations, while the observation room was a conversation piece in itself. Filled with rare textiles and intricate Indian wood carvings, the observation room was the first room guests entered, and took most people's breath away, shortly after which they scrambled to get a photo taken for proof they'd been there.
The Patrón Ride the Rails experience provided a branded touchpoint for about 200 influencers. Additionally, the brand partnered on a Spirited Dinner at Tales, and works with the TOTC team on their other annual events, including Tales on Tour, Tales of the Toddy and Daiquiri Season.
The Spirit of Italy Cocktail Brunch Italiano
Tales of the Cocktail can be a challenging event to penetrate, particularly for a small, family-owned distiller from another continent. Inspired by the common goal to promote the culture of Italy as much as the products themselves, "The Spirit of Italy" group represented historic and popular spirits producers as a collective. This year, the collective activated its biggest presence yet since it first started coming to the event in 2012.
The invitation-only "Spirit of Italy Cocktail Brunch Italiano" (held at Patrick's Bar Vin in the French Quarter) showcased artisanal Italian amari, sweet liqueurs and vermouth through the lens of the Italian culture itself. Guests were welcomed by Italian spirits ambassadors (impeccably dressed in tailored suits, dresses and fine Italian shoes, of course), and then ushered to the covered courtyard. At the indoor bar, a team of fast-talking, charming Italian mixologists were creating the five featured cocktails—available at the bar and also tray-passed—across which all the spirits available for tasting outside were included as ingredients.
In the courtyard, nine family-owned companies represented by the owners themselves walked guests through the intriguing tastes and nuances of centuries-old recipes and production techniques.
A promise to share "the deep essence of the Italian approach to life" was delivered with simplicity: a delicious brunch buffet with antipasto and arancini di riso (risotto balls); a three-piece band playing Italian songs; tray-passed servings of gelato; and even an impromptu happy birthday serenade in Italian to one of the spirit ambassadors.
Spirit brands represented by the collective included Cocchi, Lucano 1894, Bortolo Nardini, Luxardo, Distillerie Moccia, Pallini, Strega, Toschi and Varnelli. Many of these brands activated at Tales in other ways, including as featured spirits at Spirited Dinners or in educational seminars. At the ticketed Spirited Dinner featuring Varnelli Amari held at Treo restaurant, for instance, guests were gifted with a tasting flight digestif after dinner, branded travel bags and a print of a 2013 painting of a Varnelli bottle by Italian artist Roberto Pibiri.
The Spirit of Italy played the authenticity hand, without a sense of competition, but rather inviting everyone to the table to join the culture, tradition, art and enjoyment that is the Italian way.
—Written by Tami Fairweather
See also:
• How Alcohol Brands are Adding Flavor to Their Events
This story appeared in the August 2016 issue