You may think you know all there is to know about Brooklyn's iconic Coney Island—the historic boardwalk, the rickety roller coaster, the fried clams and Nathan's Fourth of July hotdog-eating contest. But there is so much more to be discovered in this coastal urban enclave. Like the experience of the glorious Mermaid Parade—a celebration of art, of "high and low culture," of "ancient mythology and honky-tonk rituals of the seaside" and straight-up eccentricity that has kicked off the summer season now for 30 years.
We arrived at primetime on June 22 and could still shimmy in for a sweet view of the route along Surf Avenue, just one block over from the more densely crowded boardwalk. More than 1,500 participants of every age, creed and color from the five boroughs create floats and costumes (pasties optional) and then march, dance or skate past spectators. There are categories of costumes, but most involve sparkling mermaids, sea creatures, kings and captains. The Mermaid Parade, organized by Coney Island, USA, a local multi-arts organization, lasted about three hours and had its largest attendance yet with 750,000 spectators.
It's this kind of diverse crowd, cultural draw and strong local spirit that attracted SVEDKA Vodka as a major sponsor. The brand included the parade on a 20-market sampling tour to promote new flavors Orange Cream Pop and Strawberry Colada. The tour kicked off May 18 in Dallas and concludes Oct. 26 at the Taste of Atlanta food festival (Agency: Factory 360, New York City).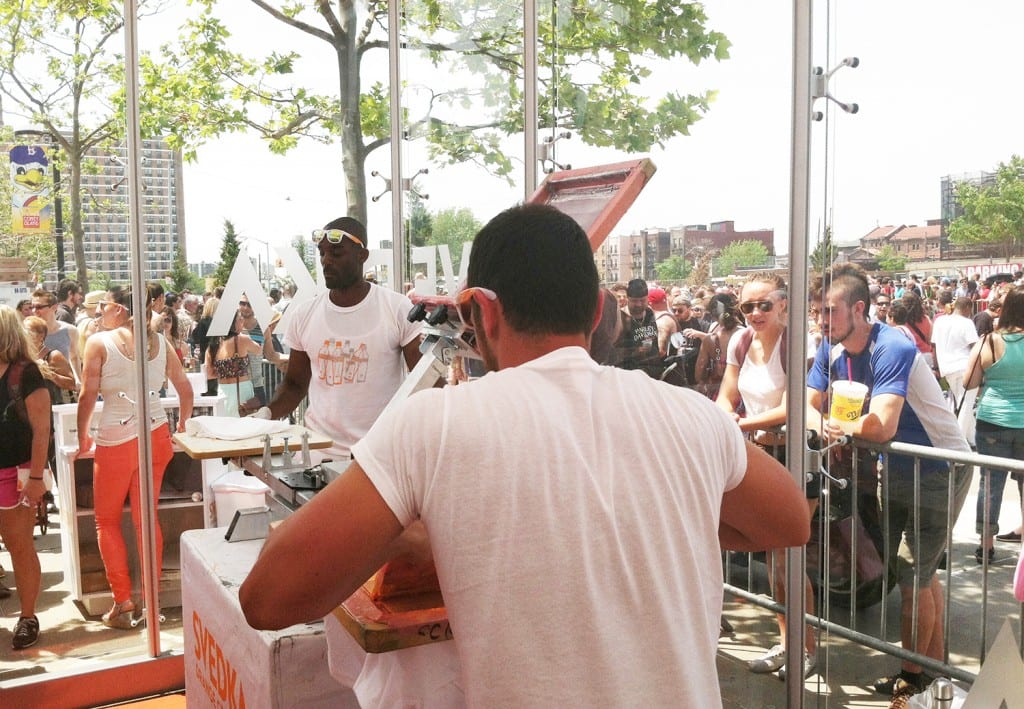 SVEDKA had the stand-out presence with its "cube experience" activation, a 16-foot by 16-foot structure with transparent walls located at the popular Peggy O'Neill's Bar and Grill outside the minor league baseball team Brooklyn Cyclones home stadium. We found it immediately, despite having been several block away, due to two white, jumbo SVEDKA-branded balloons sailing above the crowds. This particular activation focused on the Cream Pop flavor and had a white and orange color scheme. In other markets the brand changes over the color scheme to promote the other flavor.
Last year SVEDKA "tested the waters" with a similar sampling tour format. This year, however, it upped the ante as far as assets, says Diana Pawlik, vp-marketing at SVEDKA.
"We want to be unique and compelling, visually, to attract people, so this year we got the cube—it's sleek and sophisticated and it stands out and sets a place of its own within events we're participating in," she says. "It's intriguing, too, the mystery of 'What is it' and yet, ironically, it is transparent and people can see through it. They just can't wait to get in and experience what's going on and be a part of the action."
Consumers checked-in with IDs and were handed white plastic bracelets with tabs and little graphics representing each station inside the cube. As they moved from experience to experience, they removed the corresponding tab. This method helped control the number of samples handed out, which is regulated by law, but it also established a sense of currency within the space. According to Pawlik, consumers didn't want to leave without having "spent" all their tabs—a good thing, for sure.
Inside, consumers posed with a giant SVEDKA bottle mounted to the wall that rotated side to side. The bottle cap was removable as an added prop (and boy, did we have fun with this one). Photos snapped from a tablet were sent through email, which included links to share the image on social media. In exchange for sharing, consumers received a sweet pair of branded SVEDKA sunglasses.
At the sampling bar, consumers tried three samples of cocktails created from the Orange Cream Pop flavor, which were promoted on a take-home card. SVEDKA took care to serve quality cocktail samples, rather than the standard vodka soda.
"We're showing people the latitude and expansiveness of how they can experience and enjoy the flavors, so whether it's in a slushy format or a shot or on the rocks, it's three times the opportunity to introduce them to the flavor," Pawlik says. "It's all about 'How do I drink this?'—it's easy to read a recipe, but if you can experience it and be part of the energy of the environment, I think that resonates."
From the bar, consumers moved on to a silk-screening station. They could choose one of four options for placement of a custom SVEDKA design, and then brand ambassadors printed the design fresh onto white t-shirts. The t-shirts were then put under a contraption that dried them on the spot.
SVEDKA's tour route includes events where there is an appreciation for progressive thinking, creativity and culture, such as pride parades, community festivals and food and beverage events. "It's about something happening that people are excited to be at and we're the icing on the cake," Pawlik says.
And to that we say, cheers. Clink.
Who Else Was There?
There were 15 Mermaid Parade sponsors in total, most local businesses or local franchises. Zipcar set up just off Surf Avenue giving members a spin on a prize wheel for a chance at a discount off their next reservation. Those who registered that day received a special MERMAID13 promo code to use for $75 worth of free driving.
Naked Juice sampled near the start of the parade route, while Pabst Blue Ribbon beer sponsored a viewing party float. Many parade goers hit up an after-party (you had to purchase tickets) aboard a three-level river paddleboat, where Pabst served free beer and Naked served free smoothies. Local businesses sponsored other aspects of the party, from food to transportation to the boat.
PHOTOS: Check out scenes from the parade here.

This story appeared in the August 2013 issue