Every Olympics seems to have its fair share of controversy and this summer's Games in Rio was no different. From the country's political climate and its economic woes, to the pollution and the Zika virus, for some fans, athletes and sponsors, it was reason enough to stay home, pass on participating and scale back. Others, however, forged ahead, looking for adventure, world records and a return on their investment. Those who stayed the course? They were happy they did.
"At the end of the day, Brazil is a wonderful destination, and there is a lot to see," says Jenny Stahl, global hospitality events manager at Visa, who spent 37 days on the ground in Rio. "These Olympic Games went remarkably well. From a company standpoint, we have taken every single precaution to ensure the safety and security of our guests. We've not had any incidences and people who did attend are very glad that they came, and I think they'll go home and tell all of their friends that they missed out."
Nancy Neipp, senior director-global events at Cisco, echoes the sentiment. "I was so proud that we as a company held to our obligations and commitments around all of the sponsorship opportunities," she says. "We showed up and brought our best and our brightest, and we did the job and we did it well."
Here's a look at some of the winning-est activations from the Games:
Procter & Gamble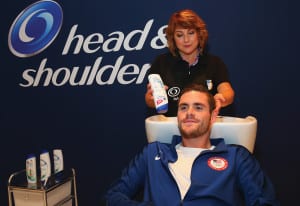 The night before the Olympic Games Opening Ceremony, P&G had its own opening ceremony of sorts—for Family Home, its version of a "home away from home" for the Olympians and their families. Nadia Comaneci, Olympic gold medalist and Tide Pods ambassador, welcomed athletes and their moms. Guests recorded videos encouraging girls around the world to "Keep Playing #LikeAGirl," as part of P&G's Always brand's #LikeAGirl campaign. Gillette, Pantene, Aussi and CoverGirl offered complimentary services, including hot shaves in barber chairs, hair styling, makeovers and nail treatments.
The services continued over the next two weeks and, for the third consecutive time, Tide Professional laundry stations collected an estimated 500 million linens and clothing from the athletes and their families and returned them clean and folded. (If that doesn't deserve a gold medal, we don't know what does!)
Outside the Family Home, P&G's Olympic Village Salon treated athletes from more than 200 countries to more than 1,000 services. P&G's "Thank You Mom" hospitality program gave Olympic Moms and their guests the chance to watch their athletes compete, and a select group received tickets to their child's sporting events. Agency: GMR Marketing, Milwaukee.
---
BP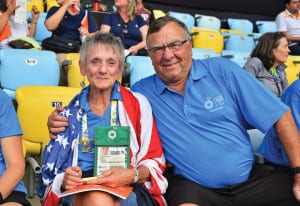 BP, a sponsor of the United States Olympic Committee (USOC) and Team USA since February 2010, once again placed a special focus on supporting the USOC's Paralympic community. During the Rio 2016 Paralympic Games, BP became the first corporate partner of the U.S. Olympic Committee to sponsor an athlete roster featuring more Paralympians than Olympians. BP hosted the families of five Team USA athletes for the duration of their stay, arranged to have them watch their son or daughter compete in the Paralympic competitions and supported the other BP Ambassadors and families at their events and Rio cultural experiences. Agency: GMR Marketing, Milwaukee.
---
Canadian Tire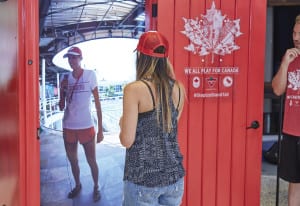 Among the activations that connected fans with their favorite Olympic athletes, Canadian Tire's Red Door to Rio was a standout. The two-way experience gave Canadians the chance to engage with the athletes, while the Olympians could connect with fans and loved ones back home. In a surprise-and-delight twist, none of the participants knew whom to expect on the other side of the real wooden doors, each of which was decorated with a maple leaf and "We all play for Canada" message. Upon opening the door, participants were met with a massive, door-sized screen, along with a camera, microphone and a mystery athlete or fan.
While the concept was simple in theory, pulling it off was anything but, especially the surprise for two Olympians, trampoline gymnast Rosie MacLennan and decathlete Damian Warner. To see how it worked, watch the video on eventmarketer.com. Agency: WonderMakr, Toronto.
---
Hershey's
How sweet is this? The PA-based candy company on Wednesday, Aug., 10, also known as National S'Mores Day, held celebrations in Rio and its headquarters centered on the chocolaty-marshmallow treats, and invited fans to send messages of support to Team USA athletes using the hashtag #HelloFromHome, which were hand-delivered to the team at USA House. The candy brand also announced it will remain a USA Team sponsor for the upcoming Games in South Korea and Tokyo. Agency: GMR Marketing, Milwaukee; Ketchum and Zeno.
---
Visa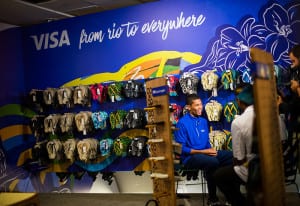 The Everywhere Lounge at the Windsor Atlantica Hotel on Rio's famed Copacabana beach offered Visa guests a respite from the excitement of the Olympic Games, the chance to grab a meal, view customized content on a 60-foot LED screen and maybe even rub shoulders with an Olympic gold medalist or two. The Lounge also showcased the future of payment technology with interactive demos of Visa's contactless payment system, including a self-service retail shop where guests could experience what it's like to purchase a product without once interacting with a fellow human being.
An Olympic sponsor since 1986 and the exclusive payment provider of the Games, the company installed 4,000 NFC-enabled point-of-sale terminals that accepted payments from the rings, bracelets and watches it distributed pre-loaded with currency to Team Visa athletes, clients, VIPs, media and employees who tested the technology in Brazil.
---
Cisco
Cisco spent more than 600 days in Brazil and worked on 54 projects related to its engagement there, providing its collaboration and networking technology to the Games and other community and educational efforts that will leave a lasting impact on the country. The Games also provided an opportunity to host its top customers and other invited guests at Casa Cisco and to reinforce the company's new brand message, "There's Never Been a Better Time," through virtual reality, multisensory activations, video storytelling, live data feeds and other interactive engagements.
One experience visualized in real time the volumes of traffic, social media interaction and engagement taking place on Cisco's networks throughout Rio, showing data such as how many wi-fi users were on the network and demonstrating how the Internet of Things allows businesses to make adjustments and corrections on the fly. Case studies highlighting customer success stories drilled down to specifics, using video, infographics and testimonials to show how actual businesses are transforming their network operations for the digital age. A virtual reality experience highlighted Cisco's urban innovation project in Porto Maravilha, one of Rio's poorer neighborhoods. Next to it, in a Hear the City engagement, attendees wearing headsets could hear tunes created by the peaks and valleys of the volume of the network activity taking place across Rio.
And how about this for hospitality: Cisco's b-to-b program included eight waves of international guests who stayed on a privately chartered cruise ship, attended an Olympic event each day, visited Casa Cisco and enjoyed off-site meals and activities. Agencies: George P. Johnson; GMR Marketing, Milwaukee (hospitality).
---
Citi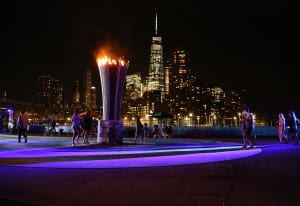 Not all of the fun took place in Rio, however. For those New Yorkers who couldn't make it to the Games, Citi brought the excitement to them with Rio on the Hudson, an activation held Aug. 5-11 on the Hudson River's Pier 56 that featured Brazilian cuisine and entertainment, Olympic athlete appearances, virtual races against gold medalist Allyson Felix, golf simulations, a replica cauldron and even its own version of Copacabana beach. The activations and photo opportunities appealed to families and the business community and included a Brazilian-inspired culinary event for Citi Private Pass members. For a tour through the experience, which began on the pier at "Ipanema" and ended with the warm sands of  "Copacabana Beach," put on your sandals and head to eventmarketer.com.

This story appeared in the December 2016 issue