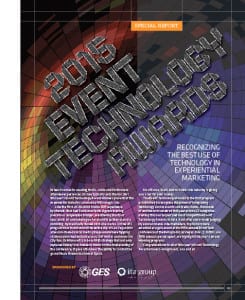 When it comes to creating thrills, chills and frictionless attendee experiences, Disney typically sets the bar. But this year's Event Technology Award winners prove that the experiential industry can make a little magic, too.
Like the first-of-its-kind Oculus Rift experience by Merrell, that had Sundance festivalgoers braving precarious suspension bridges, weathering blasts of faux arctic air and holding on for dear life as they scaled a rumbling, hydraulically fueled obstacle course. Or the UFC program that transformed the entire city of Las Vegas into a beacon-fueled social media playground where tapping stations unlocked instant access, VIP invites and more Sin City fun. Or Microsoft's b-to-b RFID strategy that not only replaced Disney's in-house systems on the final evening of the conference, it gave attendees the ability to control the grand finale fireworks show at Epcot.
No offense, Walt, but we think this industry's giving you a run for your money.
The Event Technology Awards is the first program established to recognize the power of integrating technology across events and trade shows. Hundreds of entries were received this year across 12 categories, making this our largest and most competitive Event Technology Awards to date. And after a two-week judging by a dozen brand-side marketers, top honors were awarded at a gala event at the fifth annual EventTech conference at the Bellagio in Las Vegas, Nov. 2, 2015. You can download our full list of winners below, or check out all our in-depth profiles of this year's winners (plus more than 1,000 best-in-class case studies) by subscribing to the industry's only case study database, Campaign Finder.
Congratulations to all of the Event Technology Award winners—imagineers, one and all.
Sponsored by: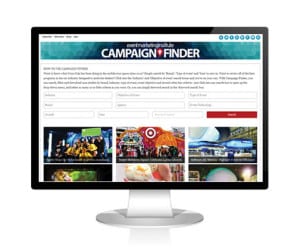 Subscribe to Campaign Finder, the world's first experiential marketing case study search engine, and get access to the world's first experiential marketing case study search engine. Campaign Finder gives you unlimited access to a growing database of more than 1,000 award winners and best-in-class case studies for your brainstorming session, CMO pitch, team meeting and more. Search, filter and download case studies by brand, category of business, type of event, event objective and other key criteria.
This story appeared in the December 2015 issue