Forget sneaking into Starbucks or begging Bodega owners for mercy—if you're ever in need of a restroom in New York City, a new service is now… at your service. Posh Stow & Go is New York City's first members-only luxury bathroom and private day storage facility, and its first location is launching in Midtown in June.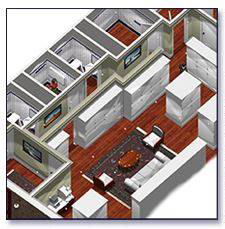 While this is a private venture, in the event industry we have seen brands capitalizing on the pop-up potty concept as a much-appreciated gift to consumers. Procter & Gamble's Charmin brand, for instance, has activated high-amenity portable restrooms at event festivals and fairs and has opened squeaky-clean, staffed public restrooms in a Times Square storefront during the holidays. Other initiatives like these have come and gone, but we wonder—why? Why haven't brands seized the opportunity to sponsor something like this on a permanent basis? (Check out a few details on Charmin here, and a partnership between Charmin and Duracell here.)
The keen businesspeople behind Posh Stow & Go are ahead of the game, for now. Here, a few details on the facilities if you're ever in New York for business (or pleasure) and want to check them out: Each individual bathroom is soundproof (non-communal). Luxury showers will also be available in about one out of every five rooms. To top it off, you can charge your phone or health devices there, too. Posh Stow & Go is even planning to expand and provide nursing mothers a quiet place to take a break. They're offering various packages that start at $24 per year.
C'mon, people. When you gotta go, you gotta go.

Charmin Photo Courtesy: Shawn Rossi/Flickr