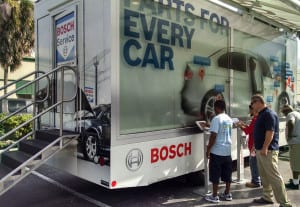 Since its release, Oculus Rift has thrilled gamers and inspired marketers to redefine the "immersive" consumer experience. Some are pioneering fresh territory.
This season, Bosch Automotive Aftermarket U.S., manager of supply logistics and sales of automotive spare parts, is applying virtual reality to b-to-b events. The 25-week Bosch Xperience Mobile Tour is taking automotive parts wholesalers, repair shop owners and mechanics on a three-dimensional trip inside an engine to see Bosch parts in action, thanks to Oculus Rift. The nationwide tour kicked off Sept. 25 in Riverside, CA, and will be active through November. For a schedule, click here.
"Automobiles more and more are becoming technology-drivers, versus just how you commute from point A to point B," says Bobby Bloom, svp at Bosch Automotive Aftermarket U.S. "This is just another opportunity for us to say that not only are we cutting edge in the car, we're also cutting edge and innovative in the way we're bringing education to the marketplace."
The tour fleet includes three box truck-style units featuring tempered glass walls and a large air-conditioned interior classroom outfitted with racecar stadium seating for six and a checkerboard floor. At each stop, visitors register on iPads mounted outside and then enter the classroom where an instructor greets them from behind a front desk. Participants put on the Oculus Rift DK1 headsets and travel through vehicle systems to check out the latest developments in the fields of engine management, in particular, gasoline direct injection, and advanced braking systems. Following 10 minutes of virtual reality there is a 15-minute long classroom session where participants can ask specific questions about what they saw and get ideas for how they can use these technologies in practice in their shops.
After the experience, participants will receive email updates on technician forums Bosch hosts throughout the year, including interactive sessions online with an engineer or master technician, to keep the engagement ongoing. On the metrics end, Bosch is taking a hard look at the before-and-after, in addition to measuring daily the number of events, visitors and time spent on-site.
"In some key markets we measured our awareness level prior to the tour passing through the market," Bloom says. "We'll systematically go back and measure it out 60, 90 days afterward, six months, a year afterward, to see if we moved that market awareness, that market share needle." Agency: Fusion Marketing, St. Louis, MO.
---
WORTH NOTING: A Bosch Xperience Tour Factsheet
Virtual reality (VR) software development took four months

The program is estimated to make 750 stops, with the units operating five days a week and making multiple stops each day

Xperience mobile classroom will be featured on Jay Leno's Emmy award-winning YouTube show, "Jay Leno's Garage"