Savvy marketers know that millennials love experiences more than material objects. But new data suggests self-expression might be just as powerful a driver among this coveted demographic. According to a 2014 study by Nielsen, "Businesses and anyone else trying to reach this generation, would be wise to give them the tools to self-express."
With that information in mind, sparkling malt beverage Palm Breeze in April indulged the millennial woman's desire to express herself via the brand's launch party—a one-night tropical getaway activation dubbed #VacayEveryDay that took place at Santa Monica's Viceroy Hotel. The event, open to women ages 21-29, pampered more than 500 attendees at various stations that aligned with the generation's need to communicate its individuality.
Palm Breeze offered a selfie photo engagement, brought in influencers including celebrity host Shay Mitchell of "Pretty Little Liars," armed women with gift bags filled with feminine summer essentials and offered an Instagram contest. But it was the brand's ability to tap attendees' passion points through six vacation-themed stations that resonated with guests' craving for self expression.
The Gilt Cabana station displayed a fashion collection curated for Palm Breeze, while the Gilt Fashion Show station showcased models strutting down the runway in Palm Breeze-inspired looks, tapping into the millennial woman's desire to self-express through fashion.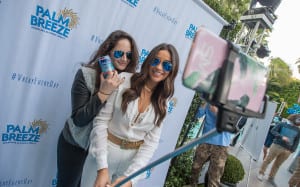 The Spa Cabana offered guests the chance to create DIY Palm Breeze-inspired sea salt hairspray, while the Flower station was hosted by Cassandra LaValle, who curated flower arrangements used for the barrettes, flower crowns and mini bouquets guests flaunted throughout the event.
Rounding out the engagement stations were a Blow Dry Bar where attendees could have their hair styled by professionals and a Nail Bar where NCLA nail technicians treated guests to Palm Breeze-themed nail wraps.
"Like Palm Breeze, the [launch] event was designed specifically to appeal to millennial women," says Diane Sayler, senior manager-brand experience at the brand's parent company, Mike's Hard Lemonade Co. "At the time of Palm Breeze's launch in April, 11 million millennial women were annually drinking more than 13 million cases of flavored malt beverages—none of which targeted them directly. Palm Breeze was created to fill that gap."
The brand is no doubt toasting to the success of its activation. The event generated more than 60 million total earned media impressions, while the step-and-repeat photo station had a total reach of 44,095 from shared photos across Facebook, Instagram and Tumblr. Agency: BeCore, Los Angeles.